Big Brother
Swindon's connection to the daddy of reality TV show
Big Brother is back on our screens this summer for the last time, a decade after it was dreamed up by a little known Dutch company.
And despite its many imitators, the show remains the daddy of exploitation TV and one of the most popular programmes in the world - it was even the second most searched for category on the internet last year.
So as Channel 4 bosses rub their hands with glee at the perfect ratings antidote to summertime switch-off, and tabloid journalists sharpen their pencils with a fresh batch of bait, we take a look at Swindon's relationship to Big Brother.
More a third cousin twice removed, the town has no doubt played its part in TV history.
From the building blocks to the bold, the beautiful and the bonkers, here are Swindon's connections with Big Brother.
Thaila Zucchi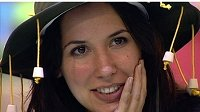 Swindon-born Thaila Zucchi
Her dodgy Aussie accent may have sounded more Welsh by the day, but Thaila Zucchi did a fine job fakin' it in Big Brother 8.

The Swindon-born former pop-star pretended she was 'Pauline' from Big Brother Down-Under, a swapsy for the evicted Laura.

Except the other housemates don't realise our Thaila popped home every night for a bit of shut-eye and a bite to eat - while Charley, Ziggy and the rest thought she was holed up in a private room next door.
The half-Italian beauty kept up the con as long as she could, although she took a big gamble - luckily nobody spotted Thaila was a member of hit band Allstars until 2002, and recently appeared as the Bunny Boiler in comedy show Balls of Steel.

Confident, though, Thaila told Davina: "I think I can keep it up. I hope I pull it off — I'll be wearing my lucky pants!"

Dirk Benedict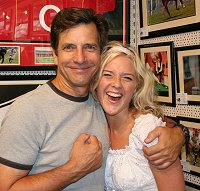 Face to face:
SwindonWeb getting up close
For those who can remember TV before reality programmes took over, by far the most familiar 'Face' among the incumbents on Celebrity BB Five was 80s icon Dirk Benedict, star of the cult series The A Team.

He was certainly recognised by a few people here in Swindon the day he made a visit to the Brunel Shopping Centre in August 2005.

Looking infuriatingly good for a sixty year-old, Dirk appeared as part of a cast reunion for another cult classic - Battlestar Galactica.

With trademark cigar, the self-confessed 'smooth one' in the A Team enjoyed an afternoon signing autographs - and (reverting to character) checking out the ladies!

SwindonWeb's very-own girl-about-town Liz Ledger proving quite a distraction for this year's celebrity BB contestant.

A Swindon experience Mr Benedict later described as 'all too brief... but highly memorable!' (and we've still got the pics!).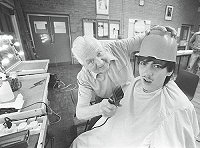 Bowled over:


Extras for 1984 receive their
scalping at Talk of the Town
It all started with a close shave… or several to be precise.

Despite often being panned as exploitation and the lowest of TV forms, there's no denying that Big Brother has its roots in highbrow literature - namely George Orwell's paranoid thriller 1984.

And Swindon's first brush with Big Brother goes right to the roots, in more than one way.

More than twenty years before Davina first uttered the immortal words: "You are live on Channel 4, please do not swear," the original Big Brother cast its unforgiving gaze over Swindon.

With key scenes being filmed for the classic adaptation of 1984 at nearby RAF Hullavington, a handful of Swindonians were recruited as extras. Like lambs to the slaughter they were led to Old Town where they had their identities erased and their heads shaved at none other than local hairdressers Talk of the Town.

Created in Swindon
It's been compared with prison and a nursery play pen but the Big Brother house and garden were one year designed by a Swindon-based company.

In 2003 Netblade Limited was contracted to create the environment of Series Four, where the likes of Cameron Stout and Jon Tickle would roam free.

The company, which had its headquarters at Cheney Manor Industrial Estate, was recommended to Big Brother producers Endemol by a mutual contact and was given the task of creating a relaxing, colourful and rather curved environment.

Pete Burns has since described the Big Brother's interior design as IKEA on LSD. But then he looks like Ed the Duck on ecstasy so he's hardly one to speak.

Melinda in da House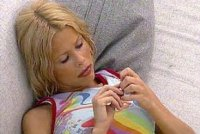 Third place:


Melinda takes it easy in
Celebrity
Big Brother
2002
Before Big Brother went evil in the name of good tele, there was Celebrity Big Brother 2, which will always be known as the nice one.

There was motherly Anne Diamond, baby-faced Mark Owen, sheep in wolf's clothing Goldie, inoffensive daytime comedienne Sue Perkins, and tragic blubbering TV presenter Les Dennis.

And at the centre of it all was Swindon's favourite model mother Melinda Messenger. Niceness personified, Melinda survived the ten days without offending anyone, gaining many admirers along the way and providing the eye candy every time she ventured into the hot tub in her bikini.

Determined that Melinda couldn't really be that nice, DJ Goldie even tried to nickname her Darth Vader, convinced that beneath her butter wouldn't melt exterior there was some ingrained wickedness and plans for interplanetary domination.

But alas, he was clutching at straws, and when Melinda was eventually evicted in third place she gained rapturous applause and left with few regrets.
BB super-bitch Grace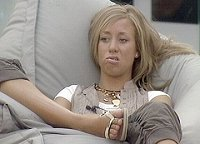 Swindon Basher:


but the tactic back-fired
There are some things you can do in the house and get away with and some things you can't - but as soon as you start slagging off Swindon you're in big trouble!

In Big Brother 6, Sloane-Ranger and all-round super-bitch Grace Adams-Scott spend most of her time in the house being Miss Two-faced about just about everyone and everything.

Only after 4 weeks did the public start to tire of her moaning and stirring - and then she committed Big Brother suicide. She had a go at Swindon.

In describing her fellow housemate Aisleyne as "a bird who looks like she belongs in Swindon or Slough" Grace there and then condemned herself to the nation's wrath - and eventual eviction with the second most negative poll ever.

A whopping 89.6% of those who voted wanted her out. No doubt the odd call and text winging its way to Channel 4 from SN1 helping the process along the way.

Future Housemates be warned.

Swindon? That's near Norway, innit?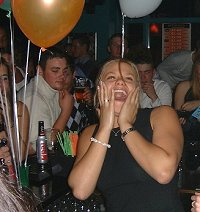 Probably the most famous of all BB contestants (you can judge whether for the right or wrong reasons), Jade Goody stopped in Swindon on her UK tour in October 2002 before returning to her career as a personal trainer (yes, really).
Sampling Swindon's nightlife at classy town joint The Bedroom, the delectable Miss Goody was more than happy pulling pints for customers, although drew the line when one over-zealous punter asked for a kebab with his beer.

Happily mingling with Swindon's Friday night crowd Jade spent the evening chatting to customers, signing autographs and posing for photos.

One particularly obsessive fan, Liz Ledger, was overwhelmed at the chance to pose with Jade in a photo.
"She's an absolute role model for me," said Liz. "She's totally wicked - I feel my whole life has been leading up to this moment. Hoorah!"

Swindon: a late-night topic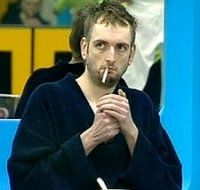 Maggot:


piped up for the STEAM museum
With the town having played a peripheral (but nonetheless important) role in the show's history, it was only a matter of time before it became a talking point on the show itself.

But when the 2006 Celebrity Big Brother contestants got to talking about the town, the topic wasn't Swindon's role in the show's history. In fact, certain housemates were less than complimentary.

"I've been to Swindon," began faux-celeb and eventual winner Chantelle. "I didn't like it."

Several other housemates muttered agreement before Newport lad Maggot contributed, "They've got the railway museum, but that's about it."

But it was Ordinary Boy Preston who boldly came to the town's rescue, proclaiming, "They've got the place with lots of Outlet shops, which is cool, like Burberry Outlet and things."

Chantelle, at least - a shopaholic by her own admission - was won over.
Don't blame it on the BB-oogie!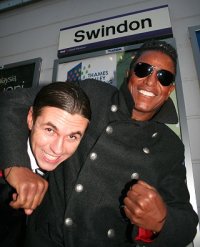 Rockin' Robin:


Jermaine Jackson,
with Swindon pal Matt Fiddes
The Jackson Five star headed straight for the sanctuary of Swindon after surviving the most controversial BB House in 2007.
The eventual runner-up glad no doubt to get as far away from motor mouth Jade Goody, as the show made headlines across the world for the racist 'bullying' of Bollywood inmate Shilpa Shetty.
But Mr Laid-back Jermaine surprisingly came to her defence during his short stay in town - which even included lunch at the Savoy in Regent St and a spot of shopping at WH Smith.
"I honestly don't believe there is a racist bone in Jade's body.
"Yes, she bullied Shilpa and that was wrong. But it's all got way too blown up now," he told us at Swindon train station.
"I enjoyed my four weeks in the Big Brother house. It was cool!"
"But Swindon's nicer!"
By George, where is everyone?!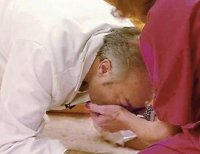 Pussycat:


George Galloway
After playing host to perhaps the most popular housemate in the show's history in Jade Goody, Swindon 'welcomed' the least popular - the show's pantomime villain George Galloway.

He left the house with about as much dignity as a fart in a spacesuit but life went on for the lycra-wearing, pussy-impersonating evil twin of Des Lynam.

And his tour of the country stopped in Swindon's Wyvern Theatre on 03 March 2006 to the faint sound of slurping milk and tumbleweeds.

Despite the notoriety he gained from appearing on Celebrity Big Brother 4, tickets for the tour weren't given the sales boost he probably expected, with the opening night in Penzance even having to be cancelled and ticket sales reportedly low nationwide.

Does the poor man have no Respect?

There you have it (for now), Swindon's connections with Big Brother.

Like any brotherly relationship, it's had its ups and downs. Where we've once been a role model, providing the building bricks for Big Bro's success, there have also been crossed words and put-downs.

But as sure as eggs is eggs (or vegetables as Jodie Marsh would contest), the relationship will doubtless continue.

And of course we at SwindonWeb will be watching as keenly as anyone else, in the hope that there'll be a surprise housemate from Swindon to spark water cooler gossip for weeks to come.
Nineteen Eighty-Four
RICHARD BURTON'S LAST FILM: Swindon's connection to the movie of the George Orwell classic - 30 YEARS AGO THIS MONTH

Two Big Fat Mentions!
Primetime Swindon: first the BRITS then My Big Fat Gypsy Wedding...

16 February 2011

We've been Googled!
For all to see: street views of Swindon in the digital age...

12 March 2010

Remembering Jade
Pictures from her only visit to Swindon in 2002...

23 March 2009