Date added: 05 October 2010
The Apprentice is back
But will Swindon-born Raleigh get any home-town favouritism?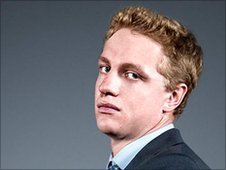 Swindon-born Raleigh Addington
The Apprentice starts its sixth series this week and Alan Sugar will be uttering his famous phrase "You're Fired!" once again.
And for one Swindon born hopeful, he'll be eager it's not him on he receiving end anytime soon.
Raleigh Addington, 22, says he's quite bubbly and that people compare him to Boris Johnson as he heads into the house alongside eleven other budding business brains hoping to land a £100,000 job with Lord Sugar.
A confident Addington describes his best strengths as "... my energy, my enthusiasm and my business nouse."
Whether Raleigh can expect any home-town favouritism from Lord Alan's right hand man, Nick Hewer, we're not sure, as 'Nasty Nick' as he's known was also born in Swindon and grew up here.
The series starts on Wednesday 06 October at 9pm on BBC 1.
Swindon's connection to The Apprentice
Now in it's sixth series, hit BBC 2 show The Apprentice has caused a real stir.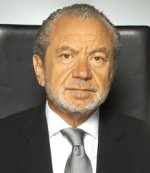 Self-made millionaire and shrewd businessman Sir Alan Sugar, puts 16 aspiring entrepeneurs through their paces - eventually offering one of them a £100,000 pa job in his corporation, Amstrad.
The thought of working with Sugar all day every day is, frankly, petrifying.
But that doesn't stop the thousands of opportunists-cum-idiots who simply love to put themselves up for it.
And Swindon has played a big part in the success of the show.
Or at least one Swindonian has.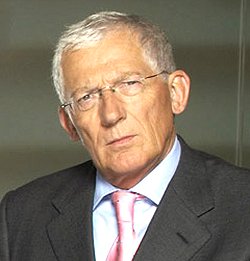 Swindon-born Nick Hewer has made
a real name for himself in business
Nick Hewer - the right-hand man who Sir Alan confides in throughout the show - is a born and bred Swindon boy.
And despite the fact that he now spends most of his time living in Chantilly, France, his roots are well and truly in Old Town - where Nick grew up as one of five children.
His father John, who unfortunately died earlier this year aged 95, was a well known vet for over 30 years as The Grange Veterinary Surgery, now the Drove Veterinary Hospital.
Kick-starting a career in public relations in the mid-60s, the former PR impresario fronted his own company, which was instructed to represent Alan Sugar's company Amstrad in 1983.
From then on, the working relationship between Hewer and Sugar turned to friendship - so it seems there was no-one more trusted with the TV role than Hewer.
And that's not Swindon's only connection to The Apprentice.
Michelle Dewberry, the ruthless winner of series two brought a little bit of the action to Swindon in February 2007, when she paid students at New College a visit.
Michelle Dewberry with New College principal Graham Taylor
In town to launch the 'Superstars' business initiative, Dewberry helped promote New College's campaign to get 16-25 year olds involved in business.
On hand to offer some valuable business advice, Michelle entertained students with some interesting tales about Sir Alan and co.
And clearly she couldn't get enough of Swindon, as she returned just one month later to take part in the Festival of Literature.
Promoting her book, 'Anything is Possible', the 28-year-old told Festival organiser Matt Holland how she turned her troubled childhood experiences in to determination to succeed.
Two Big Fat Mentions!
Primetime Swindon: first the BRITS then My Big Fat Gypsy Wedding...

16 February 2011