The Missing Link
Peter Jones of the HR Dept. Swindon answers common staff management questions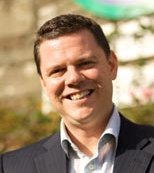 Peter Jones:
HR Dept. Swindon
Q: When it comes to contacts on LinkedIn, who owns the rights when an employee leaves their job role?
The HR Dept:
Who owns what on LinkedIn? The social media website blurs the line between professional and private life.
You control and curate your profile, but ultimately the user is representing their business.
Can they take their contacts with them?

Our customers often ask these questions when someone leaves, typically a sales person. Should the contacts from a LinkedIn account stay in the company or with the former employee?

Worries about solicitation or poaching of clients even when someone just makes updates to their new job title can cause headaches.
There isn't much case law or precedent on this area – the last case that hit the headlines was in 2008 –
click here
. A recruitment firm employee was forced to hand over his LinkedIn contacts to his former employers.
This issue has surfaced again recently; in a recent case Whitmar Publications Limited Vs Gamage and others, the High Court granted injunctive relief to the employer.
This prevented a former employee from using LinkedIn contacts in groups maintained by his former employer to further a business he had set up in competition.
This is useful because if it is the employer that retains the control of the group, a court would potentially find in their favour as it would be confidential information.

This was a tightly defined set of circumstances but good news for employers who find themselves in these tricky situations.
We must remember LinkedIn is in the public domain and case law will develop in time, but a well drafted restrictive covenant and robust social media policy can help combat against the solicitation of clients when someone leaves.
HR Dept. Swindon


Led by HR expert Peter Jones, The HR Dept. in Swindon provide services and solutions for SMEs to help prevent staff, employee or HR issues with professional outsourced HR support covering all aspects of UK Employment Law.
Ready To Recruit?
The HR Dept. discuss the recent upturn in the recruitment market...

An Affair At Work?!
Peter Jones of the HR Dept. Swindon answers common staff management questions...

Sick Note To Fit Note
Peter Jones of The HR Dept. Swindon explains the new Government guidance on managing sickness absense...

23 April 2013

Return To Work Interviews
Peter Jones of The HR Dept. explains what they are and how they can help reduce short-term absense (sickies)...

04 March 2013

Wintery Weather
The HR Dept's guide to how your business can be affected by adverse weather...