Date added: 17 June 2014
Task Force Job Fair Success
Recruiting businesses impressed with calibre and commitment of former Honda workers
The Jobs Fair organised by the Swindon Task Force for former Honda workers last month proved a real success for both the businesses that took part and the workers looking for new jobs.
In all, nearly 150 of those recently made redundant by the carmaker came to Stanton House Hotel to talk to a range of organisations looking to add to their workforce.
While some of the participating organisations were offering new jobs within the automotive sector, others were offering an alternative future, from the Army to media companies and taxi firms – all keen to attract new talent to their organisations.
John Gardner and Sat Nijjar of Cross Street Cars were delighted with the numbers and quality of the people attending.
The company has already had more than half a dozen applications following the day and these are currently being processed.
According to John Gardner, "The event was a really worthwhile exercise for us and we have been very happy with the outcome."

Michelle Dring, Recruitment Marketing Manager for Virgin Media, was impressed by the people who came to the Fair.
"The calibre of the people attending was very, very good," she noted.
"The event was busy with a good flow of people through, especially in the morning. Those we spoke to were very focussed and motivated, the kind of people we are looking for at Virgin."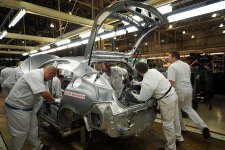 Honda in Swindon announced
cutbacks incl. over 100 compulsory
Jill Annal, the Task Force's Project Manager, commented: "These are highly talented and committed individuals that we want to keep here in Swindon. In the conversations I had with the participating businesses, the skills and commitment of the individuals at the Fair was noted time and again."

For the individuals taking part, the day was productive and helpful.
"In the feedback we got from participants, over 90% said they'd found something suitable for them during their visit," noted Jill Annal.
"And nearly half had taken advantage of other help provided by the Task Force to prepare them for a new job."

The MPs for Swindon, Justin Tomlinson and Robert Buckland, both visited the event.
"The Task Force has been a real success," said Swindon North MP Justin Tomlinson. "It has brought together the private and public sectors in an effort to help these workers find new careers and keep these skills in the Swindon area. It has involved a great deal of effort and has paid real dividends."
Honda Shuts Down
BREAKING: Swindon car production suspended by Coronavirus until at least 06 April - or when 'market and supply conditions' allow....

18 March 2020

Honda Fire
Production resumes after weekend blaze...

25 January 2016

I Predict A R-iot
Kaiser Chiefs frontman Ricky Wilson in Swindon to collect new Honda Civic Type-R - SEE PICTURES

20 August 2015

Honda Task Force
We speak to project leader Jill Annal ahead of the job fair organised for redundant workers...

19 May 2014

Honda Take Stock
340 production workers at Swindon plant face job threat after shift change...

25 March 2014

From Honda to Aston Martin?
Car giants recruit redundant Swindon workers at job fair (with some following Di Canio to Sunderland!)...

29 April 2013

Honda To Cut 800 Jobs
Downturn in EU sales blamed for shock news today - but is it because the new Civic is (hate to say it) plain 'ugly'? - COMMENT

11 January 2013

Honda Launches CR-V
Big boost for Swindon as Business Secretary praises car plant investment...

07 September 2012

Honda Jobs
Honda in Swindon is now recruiting - MORE DETAILS...

20 December 2011

Recovery Starts Here?
New Honda Civic rolls off the production line as 500 new jobs announced...

19 December 2011

Beat the recession
New College host open evening which offers advice on surviving the crunch...

09 March 2009

Asimo
Youngsters enjoy the power of robots at Swindon technology workshop...

Last Hurrah for Civic Type-R
This week saw the last of Honda's legendary and hugely successful Civic Type R's coming off the Swindon production line...

28 September 2005