Swindon Company Celebrates Milestone
IT recruiter Outsource UK marks 25 years in business

Outsource UK, one of the country's leading independent IT and engineering recruitment specialists, is celebrating 25 years in business in Swindon this month.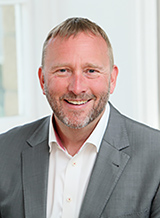 Paul Jameson


CEO, Outsource UK
Established in 1991 by the CEO, Paul Jameson, the company has gone from strength to strength, seeing significant growth especially in the last five years, including the appointment last year of its first COO, Nick Dettmar, and other senior appointments to cement the direction of the business.

Paul commented on this significant anniversary for him and the company, "I set out to build a recruitment business that put relationships at the core, and I'm delighted that my instinct was right."
"I've always believed that it's people that make a great business. I've seen many businesses come and go during this time so I am very proud that we've grown into a business with such great potential. Outsourcing as a concept is still developing apace, and will become even more important as the need for niche skills forces businesses to have flexible workforces. We've invested in more staff, better premises and branched out into new markets, so I can't wait to meet our new customers and see the business develop."
Outsource has also strengthened its back-office team recently, with the appointment of HR Business Partner, Alexia Seller, and Annabel Wallis as Marketing Business Partner, the first to hold these roles within the company.

Keeping people development at its core, the company has also invested in the creation of its own in-house Sales Academy, to provide a continuous supply of new professional recruiters who are fully trained, understand the business and markets and, very importantly, fit well into Outsource's culture. Five candidates passed the rigorous selection process, and are now well on their way to becoming the star recruiters of the future, having already placed their first candidates. As customers face more and more skills shortages in their niche areas, a "grow your own talent" model is increasingly favoured.


The staffing business has offices in Swindon, Manchester, London, Midlands and provides contract and permanent specialist IT and technical staffing solutions to the financial services, public sector and engineering sectors.
For further details on Outsource UK, please visit the official website via the link below
Spotlight On Two Rising Stars
Outsource UK celebrate the achievements of two employees who have been shortlisted for top industry awards...

03 October 2013

Scaling New Heights
Kilimanjaro trek inspires Outsource UK boss to consider more adventures - staff included!...

22 November 2012

'Most Admired Agency'
Outsource UK scoops top accolade at Recruitment International awards...

18 October 2009