Date added: 10 September 2001
Honda Invests in New Second Factory for Swindon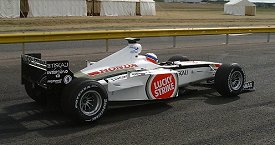 Formula One teams BAR (pic above) and
Jordan Honda put on a display to
celebrate the new factory opening
Honda's new £130 million pound car plant at Swindon was officially opened today by the company's President and CEO, Hiroyuki Yoshino and celebrated by a spectacular display of driving from its two formula one teams - BAR and Jordan F1.

The opening underlined Honda's commitment and confidence in Swindon as its manufacturing base in Europe.

Present at the launch included BAR driver and 1997 World Champion, Jacques Villeneuve, alongside fellow team-mate, Olivier Panis, and team owner, Craig Pollock, together with Jordan team owner, Eddie Jordan, and new Jordan driver, Jean Alesi.
A full display of driving was enjoyed by all the guests invited and also proved a special treat for the onlooking Honda workers. The display only being cut short by Jean Alesi's unfortunate incident where he clipped the armco barrier with his Jordan while showing off! (See full story - link below).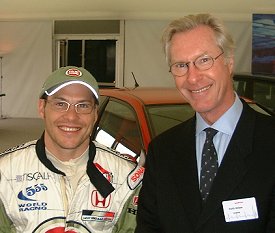 Jacques Villeneuve mixing with guests
Speaking at the new plant, said 'We are here today because we believe that the UK is a great place to build cars. We now produce over 2.56 million cars a year, but we still need additional capacity - Swindon is a key element'.

'With the opening of this plant, we put in place the vital piece of our global supply network. Swindon will become the only production facility in the world for new Civic 3 door, Exporting this car to Japan and North America. And Swindon will become a major supplier of the all-new 2002 Honda CR-V for the North American market'.

'Global growth prospects are strong, our products are in great demand. For Honda in Europe, we will boost production, begin exporting to other major markets, and set forth in Europe', added Honda President.
The new facility is the first 'green field' car plant to be built in Britain in the last 8 years. Its opening takes place 9 years after production commenced at the original Swindon plant in October 1992.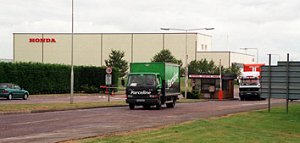 First factory: built in Swindon in 1985
Honda's £130m investment in the plant brings the UK total to 1.15 billion, and underlines the company's commitment to car manufacturing in Britain. This accounts for two thirds of Honda's total investment in Europe - a sum which has been entirely funded by Honda. It has provided 1000 new, quality, skilled jobs in the manufacturing sector.

The new plant is a world class car manufacturing facility which compliments Honda's existing Swindon plant to become a key element in the company's Global Supply Network. The twin plants have combined capacity of 250,000 units per annum - and together account for 8% of Honda's global needs. Full rate of production in both plants will be achieved within 2002.
The new plant uses some of the world's most advanced production systems distilled from manufacturing know-how in Japan, North America and the UK. Honda's New Manufacturing System (NMS) replaces model specific equipment and production processes with those which are universal.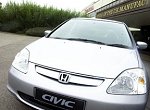 The aim of this is to increase both efficiency and flexibility, enabling Honda to achieve faster response to market needs while at the same time maintaining the highest standards of quality. There are two additional benefits, since it also reduces the impact of the production process on the environment and creates a safer, more pleasant - and therefore more productive - working environment for Honda Associates.
Increased Production For Export Market

The No. 2 plant will begin by producing Honda's highly successful new Civic 5 door model, but the flexibility of NMS will allow it to build other models according to the market demand.
Honda completes first New Car Plant in Britain for 8 Years.
Low volume production starts.

New Manufacturing System brings increased levels of flexibility, speed and efficiency.
Honda's second British car plant based at Swindon in Wiltshire was completed on schedule underlining the company's commitment to car manufacturing in the UK. This is the first "green field" Car Plant to be built in Britain in the last 8 years. Honda's Swindon facility now includes an Engine Plant built in 1989, the original Car Plant opened in 1992 and of course this new plant.

The new No 2 Car Plant will increase annual production capacity at Swindon by 100,000 units, making the total to 250,000 when combined with the 150,000-unit No 1 Car Plant. The Company plans to attain full rate of production in both plants within 2002.

Groundbreaking exports to both Japan and North America are also planned for the first time from Honda's European manufacturing base in England.

The new plant using Honda's advanced New Manufacturing System (NMS), will have the flexibility to build a range of models.
Completion of the second plant brings Honda's total investment to date in its European car manufacturing facility to £1.15 billion, two thirds of its total investment in Europe and a sum which has been entirely funded by Honda.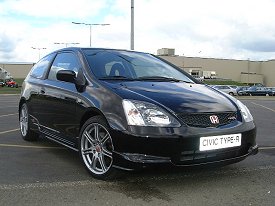 The new Honda Civic Type R
"Honda's car manufacturing facility at Swindon, working in partnership with our suppliers and supported by local R&D operations in the UK and Germany, is meeting the specific demands of Global customers both in quality and design. The combined capacity from the two car plants enables Swindon to become part of Honda's Global Supply Network, exporting models to both North America and Japan as well as mainland Europe" said Honda's European President, Minoru Harada.
The Honda story in Swindon so far...

Honda of the UK Manufacturing (HUM) was established in 1985 at the former airfield site at South Marston, Swindon. One year later, in September 1986 operation began as a Pre-delivery Inspection centre. Engine production at Swindon commenced in July 1989 and this plant has built the majority of the petrol engines installed in Swindon built cars as well as exporting engines to Honda's Car Plant in Turkey. Car production began in October 1992 with the introduction of the European version of the fifth generation Accord.
HUM is now part of Honda's global product supply network.

The plant will export the new Civic 3-door model to the Japanese and US markets market in Autumn 2001 - and the next generation CR-V compact sport utility vehicle to the U.S in early 2002.

This new product supply strategy represents Honda's response to the rapidly changing business environment in Europe, including Euro depreciation

HUM will continue to supply the European market as well as fulfilling its new global supply role.

The HUM plant builds almost all of the petrol engines used in the cars manufactured at Swindon

Capacity of the engine building facility is sufficient to meet the combined needs of both car plants

Cumulative production at HUM exceeds 700,000 cars, comprising around 400,000 Civics and 300,000 Accords.

Current employment at HUM stands at 3800.
Honda Motor Company Ltd is the largest engine manufacturer in the world, with annual production of over 11.5 million units

Honda is the seventh largest Car Company globally, with production last year of 2.6 million units.

The company also manufactured 5.1 million motorcycles and 3.9 million power equipment products during the last financial year.

Currently Honda employs 112,400 Associates in a global network comprising 118 production facilities in 31 countries.

No public money has ever been used in the investment of any Honda manufacturing operation.

Honda's NMS replaces model specific equipment and production processes with those which are universal.

Honda in Swindon - more information
Honda Fire
Production resumes after weekend blaze...

25 January 2016

I Predict A R-iot
Kaiser Chiefs frontman Ricky Wilson in Swindon to collect new Honda Civic Type-R - SEE PICTURES

20 August 2015

Honda Task Force
We speak to project leader Jill Annal ahead of the job fair organised for redundant workers...

19 May 2014

Honda Take Stock
340 production workers at Swindon plant face job threat after shift change...

25 March 2014

Honda To Cut 800 Jobs
Downturn in EU sales blamed for shock news today - but is it because the new Civic is (hate to say it) plain 'ugly'? - COMMENT

11 January 2013

Honda Launches CR-V
Big boost for Swindon as Business Secretary praises car plant investment...

07 September 2012

Recovery Starts Here?
New Honda Civic rolls off the production line as 500 new jobs announced...

19 December 2011

Last Hurrah for Civic Type-R
This week saw the last of Honda's legendary and hugely successful Civic Type R's coming off the Swindon production line...

28 September 2005