BBC Big Weekend
A year on from the BBC Big Weekend in Swindon - so reminisce with our video's and galleries from last year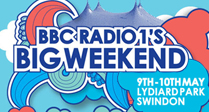 It's big it was in Swindon:
If you have been listening to Radio One over the last few weeks you'll know it's the BBC Big Weekend 2010 in Bangor this weekend.
Exactly a year on from when it was in Swindon!
Artists from Dizzee Rascal to Daniel Merryweather, The Saturday's to The Script to name just a few.
So we've decided it's time to reminisce the weekend with all our videos and galleries...
Check out all the action below...
Grimmers in Swindon!
Memorable day for pupils as Radio1 Breakfast Show broadcasts live from Isambard School...

08 May 2013