Motorola Building
Swindon's striking piece of industrial achitecture - and James Bond film location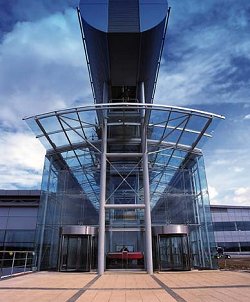 Opened by the Queen in 1998:
One of Swindon's most recent pieces of major industrial achitecture is the striking and futuristic Motorola Building at Groundwell.

Opened by Her Majesty the Queen in November 1998, the building was designed as a major manufacturing facility for the companies GSM radio transmission equipment and cost an estimated £40 million to construct.
It was completed in just 52 weeks.

The aluminium and glass clad complex covers an area equal to three football pitches end to end and accommodated 1300 staff (before recent redundancies in 2001) in 28,000 sq.m of manufacturing space and 4500 sq.m of offices.

The high-tech exposed steelwork and roof-level services tube at 5.5m diameter is big enough to drive a car through, and proved irrestible to the producers of the Bond film 'The World Is Not Enough', starring Pierce Brosnan, who filmed at the location in 1999 using the factory as a double for a Turkey oil refinery (see link below).

The Motorola building won the award for best industrial building in the 1999 Structural Steel Design Awards and was highly commended in the British Construction Industry Awards.
Manufacturing of mobile phones ceased at the site in 2001, and the building is currently the European headquarters for Motorola's Home & Networks Mobility.
In 2009, Motorola chose the factory to install the first test-bed in the UK for the new 4G mobile broadband system, which is currently undergoing high-profile trials.

Key Facts:

Building size, 23,100 sq.m
Length, 300m
Architect, Shepherd Robson
Year of construction, 1998