Justin Hayward
Swindon's rock God and Moody Blues legend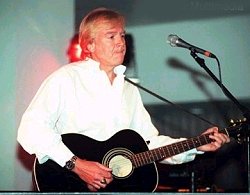 Justin Hayward
It was clear from an early age that Justin Hayward would carve out a career as a musician and singer, but few who heard him sing in the choir at St Saviour's Church, Swindon in the 1950s could have guessed that he would lead one of the world's most famous 'supergroups'.

Born in Dean Street, Swindon, on 14 October 1946, Justin was the son of two teachers.
He went to Shrivenham Primary School and then on to Commonweal, but was already an accomplished musician when he left school at the age of sixteen.

It was at Commonweal that he acquired his nickname, 'Legs', which was to stay with him during his most successful years with The Moody Blues.
"I was tall for my age and I could run, so they called me 'Legs'," he recalled.
He could run fast, too, and won the South West County Championships for the 440 yards.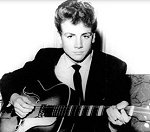 Hayward played in
various Swindon bands
during his formative
teen years
But music was his true vocation, as became apparent at the tender age of ten when he formed a skiffle group called The Riversiders. He had to wait another three years for his first real taste of showbusiness, however, which came while he was on holiday at Lyme Regis.
He volunteered to be an emergency accompanist for a musical called Boy in the Blues Jeans, and ended up staying for the rest of the summer.

Back in Swindon, he became a member of The Rebels, who later changed their name to The Off-Beats. He was also in Swindon bands The Whispers, All Things Bright and The Shots and for 18 months worked as a trainee salesman for the local building firm, Bradley's.

His first big break in the music industry came from an association with established pop star Marty Wilde. On 8 April, 1966, Justin played alongside Wilde in a televised charity show at the London Palladium and within a month jetted off on a Forces entertainment tour as part of the Marty Wilde trio - Wilde's wife, Joyce Baker, completing the line-up.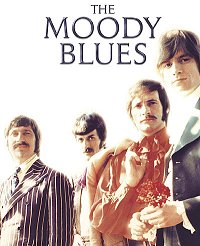 Fame and fortune:
The Moody Blues
(Justin on right)
But while Wilde's career was on a downward path, Justin was a rising star.
He left Swindon to move to London and it was there that he joined the Moody Blues in 1966 (he actually learnt that he'd secured the lead singer role while looking at guitars in Duck, Son & Pinker in Fleet Street, Swindon).

The group had already scored a number one hit at the first attempt, Go Now reaching the top in early 1965. But they had failed to make the top twenty on three subsequent releases and times were not easy for Justin in those early days with the band. He had to turn to his father to pay for his instruments when the money ran thin.

But they were ready to bounce back, thanks to Justin's input as a songwriter.

Although Go Now and the 1970 hit, Question, which made number two, are their most successful singles, Nights in White Satin is probably their best-remembered song and was a top twenty hit three times, though strangely for such a well known song, it never went higher than number nine in the charts.
Justin wrote the song while living in a flat in Bayswater.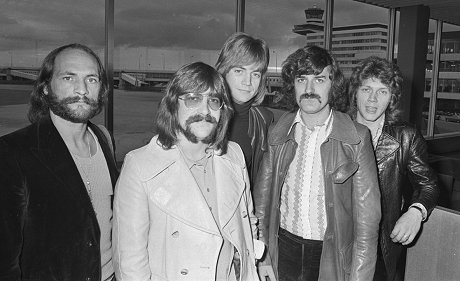 Another hit, Tuesday Afternoon, was inspired by Lydiard Park, a place he loved as a boy.
"I really liked it. There is an ambiance about it," he later recalled, explaining that he wrote the song on a visit to the park with his dog, called Tuesday. See video below.

The group's success in the singles charts never matched their status as one of the most highly-respected bands of the era. The Moody Blues were always guaranteed to perform better in the album charts - chalking up a string of six consecutive top-five hits between 1968 and 1972.
They had also built a reputation as an accomplished live band, and performed at the famous Isle of Wight Festival in 1969.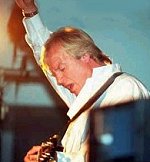 Ironically, it was as a soloist that Justin scored his biggest hit single, Forever Autumn.
The song reached number five in the British charts in 1978 and the album it was taken from, Jeff Wayne's War of the Worlds, went on to be a multi-million seller worldwide (see link below).

The Moody Blues proved to be one of the most enduring groups of the Sixties and are still playing to packed houses when they do rarely embark on a tour - a fact that would have surprised the young Justin as he was growing up in Swindon.
After being cornered by Michael Aspel on This Is Your Life in March, 1997, he admitted: "I started playing in a band at 14. If you'd told me then I'd still be doing it at 50, I'd have said no way - I'd be over the hill. But rockers go on forever now."
Still playing live:
The Moody Blues
(Justin on right) keep adding
to the 55 million records
they've sold so far
Today, he lives most of the year in the South of France with Marie, his wife of over 30 years. Their daughter, Doremi, is a model and TV presenter.

But Justin Hayward still remembers his Swindon days with affection, and has returned in recent years to help fundraising for a number of causes.

They have included his memorable gig in 1991 in aid of the Gerry Drewett Cancer Fund, called the 'Moody Blue Bop', and his most recent appearance at the Apartment in 2005 for Children in Need.

There he played a one-off acoustic gig to an enthralled audience and spoke openly about his career and his memories of Swindon (see links below).

When his old junior school at Shrivenham needed funds in 1996, he also generously donated a signed guitar for auction.

It all shows that Justin hasn't forgotten his roots.

And Swindon isn't going to forget him in a hurry, either.
Justin Hayward Discography: Singles
(Numbers shown are the highest chart placings. Moody Blues only listed from when Justin Hayward joined the group.)
19 Nights In White Satin [1967]
27 Voices In The Sky [1968]
42 Ride My See-Saw [1968]
2 Question [1970]
19 Isn't Life Strange [1972]
9 Nights In White Satin (re-entry) [1972]
36 I'm Just A Singer (In A Rock 'n Roll Band) [1973]
14 Nights In White Satin (2nd re-entry) [1979]
Justin Hayward and John Lodge
8 Blue Guitar [1975]
Justin Hayward
5 Forever Autumn [1978]
Justin Hayward Discography: Albums
(Numbers shown are the highest chart placings. Moody Blues only listed from when Justin Hayward joined the group.)
27 Days Of Future Passed [1968]
5 In Search Of The Lost Chord [1968]
1 On The Threshold Of A Dream [1969]
2 To Our Children's Children's Children [1969]
1 A Question Of Balance [1970]
1 Every Good Boy Deserves Favour [1971]
5 Seventh Sojourn [1972]
14 This Is The Moody Blues [1914]
6 Octave [1978]
15 Out Of This World [1979]
7 Long Distance Voyager [1981]
Justin Hayward and John Lodge
4 Blue Jays [1975]
Justin Hayward
28 Songwriter [1977]
41 Night Flight [1981]

An Album Ahead Of Its Time
50 years on from The Moody Blues' grounbreaking 'Days of Future Passed' written by Swindon Rock God Justin Hayward#madeinswindon

05 November 2017

Nineteen Eighty-Four
RICHARD BURTON'S LAST FILM: Swindon's connection to the movie of the George Orwell classic - 30 YEARS AGO THIS MONTH

Best Of Swindon 2013
Jahmene Douglas headlined an Oasis concert that didn't disappoint, writes Mallory Nicholson - REVIEW + GALLERY

27 May 2013

Senses Working Overtime
40 years on from their biggest single & album, we celebrate Swindon's greatest-ever band, XTC - WATCH VIDEOS

Chart Topper!
It's a number one single for Swindon singer Josh Kumra - WATCH VIDEO...

22 August 2011