David Howell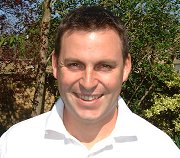 If there's one person in Swindon who has helped to put the town on the map throughout the world, it's definitely David Howell.
Swindon's finest ever golfer has played tournament golf through the world since turning professional after starring in GB & Ireland's magnificent victory over Tiger Woods and the US team in the 1995 Walker Cup.

He has since gone on to win five European Tour titles & two Ryder Cups as well storm into the world top ten in 2006, bagging over £10 million pounds in prize money along the way.
Only a series of injuries - mainly back and shoulder - curtailed his career in recent seasons but after winning the Alfred Dunhill Links Championship in 2013 (see link below), Howell - by his own admission - has showed the form that doesn't rule making another Ryder Cup appearance quite yet.
He now lives in Dubai & Weybridge and mixes tournament golf with studio expert opinion on SKY Sports, where is he is a regular pundit, and on-course commentary during the Open Championship for the BBC.

His first professional victory came at the Australian PGA Championships in November 1998, followed quickly by his first win on Tour when on Valentines Day 1999 he triumphed in the Dubai Desert Classic, beating a host of famous names including the then US Masters and Open Champion Mark O'Meara, Colin Montgomerie, Greg Norman, Ernie Els and stablemate Lee Westwood to the title.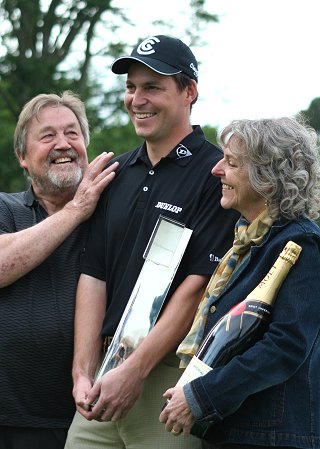 That's my boy!:


David Howell celebrates winning the PGA
Championship with his mum and dad

In October 2005, Howell also beat a class field to pocket the BMW International Open in Munich.
Then, after recovering from a serious injury setback, he added the prestigious HSBC Champions Trophy in Shanghai to his c.v. in that November, where he out-gunned world number one Tiger Woods to the title - Woods later nicknaming Howell 'cool dude' after the win.
His best season so far then followed in 2006, when Howell won the PGA Championships, qualified for his second Ryder Cup and rose to eighth in the world.
Two-time Ryder Cup winner

Team-wise he has also represented England in the Dunhill Cup at St Andrews and played for GB & Ireland against Europe in two Seve Ballesteros' Trophies, 2000 and 2003.

But it is probably Howell's performance in the Ryder Cup 2004 that the Broome Manor member is best remembered.

Up against the might of the United States team in Michigan, USA, Howell - a Ryder Cup rookie - helped to win the trophy for his European side with a magnificent victory in the fourball matches alongside partner Paul Casey.

Hailed a 'massive hero' by his captain and teammates, the last-hole win turned the match when the pressure was at its highest during the second day.
The pivotal moment coming when Howell hit a career 4 iron to four feet on the 17th hole to make birdie (a shot he would later be awarded the Royal Bank of Scotland 'Shot of the Year' for) - an experience that the typically laid-back Howell took in his stride.

"I remember being very nervous before a couple of crucial putts, but I managed to keep my composure when it mattered.
"The Ryder Cup has been the highest point in my golfing career so far. A dream come true that I will never forget. But I do intend to appear in many more," he said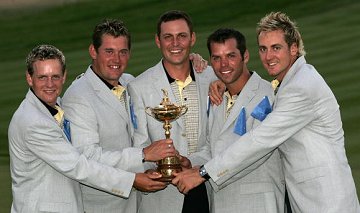 Ryder Cup star:


David Howell, seen here with the Cup and his victorious
teammates from the 2004 match - and

'relaxing'
off-course at the Ryder Cup 2006 (below)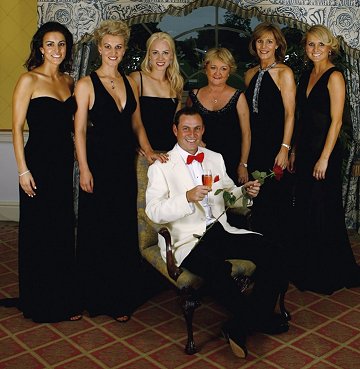 And all of this has been achieved with the help of other talent from Swindon as well! Kevin Phillips, his great friend from David's home club Broome Manor, caddied for him in the Walker Cup and Jason Hempleman, cousin of the equally famous explorer and SwindonWeb fan, David Hempleman-Adams, walked the fairways as David's bag man and best mate on tour from 1995 until 2004.

David still has a home in Swindon and can often be seen practicing at Broome Manor Golf Club, as well as watching Swindon Town FC when he gets a break from his very busy schedule - only usually when he's missed the cut though!
Fact File:
2014 Season (as of 08 October 2014)
Order of Merit position: 49th €530,420
Ryder Cup position: n/a
Born: 23rd June 1975
Age: 33
Height: 6'1"
Turned Pro: 1995
European Tour wins: 5
Major titles: 0
Ryder Cup apps: 2
Highest Order of Merit position: 3rd (2006)
Highest world ranking: 8 (2006)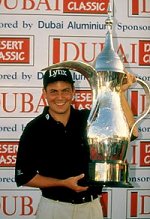 First Tour win:


David Howell with the
Victories
2014 Dunhill Links Championships
2006 PGA Championships
2005 HSBC Champions Trophy
2005 BMW International Open
1999 Dubai Desert Classic
1998 Australian PGA Championship
European Tour Order of Merit
2013 21st €1,158,049
2012 62nd €426,781
2011 103rd €294,081
2010 96th €285,161
2009 156th €141,490
2008 45th €652,491
2007 142nd €164,716
2006 3rd £1,414,000
2005 7th £1,198,000
2004 10th £1,006,000
2003 16th £599,000
2002 74th £193,000
2001 15th £510,459
2000 34th £206,174
1999 23rd £295,911
1998 32nd £199,040
So where did it all start?

A trip to a driving range with his father Ray (owner of Howells in Devizes Rd, Old Town) when on a family holiday in Spain sparked the golfing talent in David when he was only five.
A trip to a driving range with his father Ray (owner of Howells in Devizes Rd, Old Town) when on a family holiday in Spain sparked the golfing talent in David when he was only five.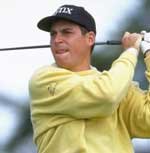 On Tour:
David Howell has played all
over the world since turning
Hitting balls in a local field then pro
gressed to joining Broome Manor Golf Club as a junior member and having a few lessons with professional Barry Sandry. Barry soon saw the golfing talent in David, as well as another young boy of the same age, Gary Harris, and took them both under his wing.

As great friends and practice partners, the two boys spurred each other on to win numerous Junior titles and County honours with their partnership for Wiltshire in the early 90's being noted as the best pairing the county has ever put out.

Hard practice and dedication at the Broome Manor driving range won David the British Youth's title in 1993 and Gary the prestigious Brabazon Strokeplay title in 1994, with the honour of playing in the Walker Cup beckoning for both players in 1995.

Surprisingly, however, only David was initially included in the GB & Ireland squad for the match and Gary, annoyed at being overlooked, turned professional immediately.

David went on to hole the winning putt on the final day of the match and a record of scoring 21/2 points out of 3. He came away from Royal Porthcawl in Wales hailed as one of the bright young stars of golf and proved this straight away by nearly winning one of his first professional tournaments, the South African Open.

After playing with, and impressing, twice US Open champion Ernie Els, the eventual winner, Els commented that 'David Howell is one of the best young players I've ever played with. Very composed. A true talent.' How right he was.

Gary, although no longer a professional, did go on to play some magnificent golf but didn't quite make his big break in the game. Both are still very good mates.

SwindonWeb wishes them both the best of luck. You definitely need it in golf!
INTERVIEW: David Howell
VIDEO: We talk to the Swindon golf star ahead of this week's PGA Championships...

25 May 2016

Girls Win The Golf!
Junior golfers shine in Deacons Classic at Broome Manor - PHOTOS

04 August 2015

49th For Howell
OPEN GOLF: Birdie finish at St Andrews for Swindon golf star....

20 July 2015

David Howell Interview
VIDEO: We talk golf - and Old Town buses - with the Swindon golf star at the PGA Championships....

19 May 2015

Howell In The Open!
St Andrews major for Swindon golf star after second in South Africa....

01 March 2015

Future Ryder Cup Captain?
Swindon's David Howell joins selection committee - all of whom are past captains....

08 October 2014

Howell at Hoylake
UPDATE: Swindon golf star top Englishman at The Open but just misses out on top ten after superb final round 68...

20 July 2014

Golf in Swindon
Beginner or Tour Pro, get in the swing with our Swindon golf guide...

HUGH BEAUTY!!
Swindon golf star wins the Dunhill Links Trophy & half-a-million pounds first prize! + WHAT'S IN THE BAG VIDEO

29 September 2013

David Howell Interview
SWTV speaks to the Swindon golf star ahead of this week's Ryder Cup - WATCH VIDEO

21 September 2012

What a shot!!!
Gong-ho David Howell enjoys the luck of the Irish in golf challenge - WATCH VIDEO...

16 August 2010

Wrag to riches?
Swindon golfers head to St Andrews for final Open qualifying - UPDATED...

30 June 2010

Tiger Woods sex scandal
"It's going to take a long time to get over, there's no doubt about that" says Swindon golf star, Howell...

12 December 2009

Seniors Success
Wrag Barn golf pro Peter Mitchell wins Czech Open...

24 September 2009

That's My Boy!
ARCHIVE: The day Swindon's finest golfer became the best in Europe - 28 MAY 2006...

28 May 2006