John Francome
You don't need to be a horse racing fan to know about John Francome.
His success as a jockey and trainer makes him one of the foremost figures of all time in the racing world, but he has also made a success in the world of broadcasting and publishing as a commentator and novelist.
Gee-gee genius:

John Francome
Even though his autobiography is called Born Lucky, the fact still remains that John Francome came from humble beginnings. Born in a council house in Mulberry Grove on 13 December 1952, he is the son of a railway fireman and when he left Park Senior High School he had few qualifications to show for it.
His business sense, however, had already manifested itself in a scheme to print counterfeit lunch vouchers which he sold to selected classmates at half price.
One of the last areas he might have been expected to find himself was in the horse world, not least because the family struggled to provide the funds for him to compete with the horsey set.

The Francomes had had no connection with horses, but a ride on a donkey at Barry Island at the age of six was enough to captivate John. He soon persuaded his parents to buy him a pony - Black Beauty - and the happiest moments of a happy childhood were the ones spent in the saddle.

Fairly unusually for a jockey, his first successes on horseback were as a showjumper. Yet even winning the European Championship with the Great Britain team is dismissed in one line in his autobiography.

On leaving school he realised showjumping offered little financial security and he recalls: "To become a jockey suddenly seemed the natural solution."
Despite reservations that he would grow too big, the 16-year-old became an apprentice with top trainer Fred Winter at Lambourn and he moved from Swindon into the stable hostel.

But his last season in showjumping proved his best and after winning the Young Riders' Championship of Great Britain at Hickstead and, struggling to keep down his weight, he nearly turned his back on racing early on.

He was soon given his first public ride - on Multigrey at Worcester in November, 1969 - and won easily, but his second race at Cheltenham ended when he broke his wrist.

It proved a brief setback. In only his second season the young jockey was getting rides with top owners and winning - and was already well on the way to his first National Hunt championship, which he claimed in 1975/76.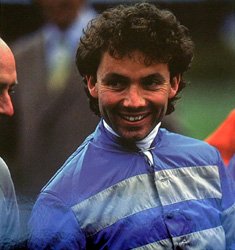 Francome was crowned champion
jockey
seven times and rode
1,038
winners
in a career

John Francome went on to win seven championships in ten years but admits that by the time he set a new record of 1036 jumping victories in June 1984, he was already making up his mind to retire. He rode his 1038th and last winner in April 1985 and was awarded the MBE the following year.

John retained a strong link with racing by working as a trainer, and with regular appearances as a TV commentator.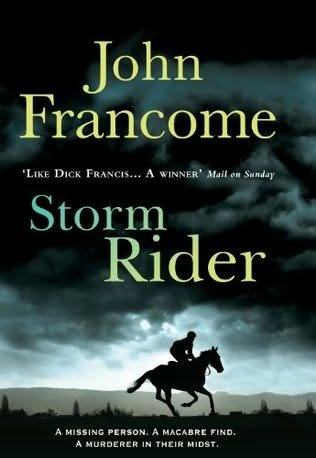 Rider turned writer:


the latest of Francome's twenty-six

His talents even extending to writing in following in the footsteps of Dick Francis by becoming a successful novelist.
He also writes a regular racing column in The Sun.

John lives just over the county border in Lambourn, but still retains a great bond for his home town.

"My affection is still for Wiltshire and Swindon people," he said, "who I find friendlier than those from many other southern counties."

John Francome is a self-confessed fan of SwindonWeb - so much so that he took no persuading when we asked him to record a radio advertisement for us.
And that's

'...straight from the horse's mouth!'
Fancy A Flutter?
Swindon runners and riders to look out for today at Cheltenham - FRIDAY...

The King's Speech
Swindon trainer talks to SwindonWebTV ahead of the Cheltenham Festival...