Jasper Fforde
Jasper Fforde - Creator of Literary Detective, Thursday Next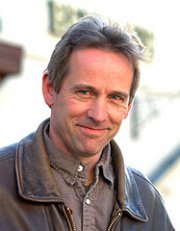 Jasper Fforde
©Calyx Multimedia
And so this is Swindon - a friendly, normal English town where the unexpected rarely happens? Not once you've met Mr Fforde.
In Jasper Fforde's parallel universe, the hugely popular author has made Swindon a place of wit, intrigue and weirdness, where literature's more popular than football, history is not as we know it, reconstituted dodos roam the parks, mammoths ruin your flower beds, and Thursday Next, literary detective, has to save the world.
It's 1985, and Acheron Hades, the epitome of evil, is kidnapping characters from literature. Will he destroy Jane Eyre, or will Thursday be able to defeat him with the help of her time-travelling father, her genius inventor Uncle Mycroft's extraordinary bookworms, Edward Rochester, Pickwick the dodo and assorted Spec. Ops. sidekicks? Will the war in the Crimea ever cease, or will Jack Schitt succeed in launching the next wave of lethal weapons? Will the Goliath Corporation finally manage to take over everyone's life? Will Thursday forgive Landen Park-Laine for naming her brother as the cause of one of war's most infamous blunders? Take a look at Swindon as it's never been seen before in The Eyre Affair, Jasper Fforde's hilarious first novel.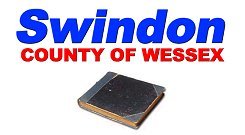 Thursday Next:

Literary detective
set in Swindon
©Calyx Multimedia
Have you ever been absorbed in a book? In her second appearance Thursday Next certainly is.

When Goliath eradicate her husband she's recruited to the ranks of Jurisfiction, literature's internal police force, as apprentice to sharp-shooting Miss Havisham.
With a little help from the Cheshire Cat she gets Lost in a Good Book as never before. Can she find out who stole Shakespeare's Cardenio? Will she be condemned in Kafka's Trial for crimes against literature? Will she escape Goliath's clutches, or must she restore Jack Schitt to real life? Can she and Pickwick avoid Hades' lethal attentions and survive to stop the end of the world? Travel on Swindon's monorail and take a vertiginous ride through the Earth's core as Thursday tries to save her husband, solve undead-hunter Spike's romance problems and beat Granny Next at table tennis.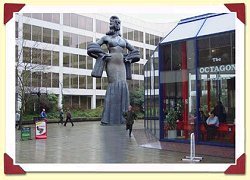 Parallel Universe:


Swindon like you've never
seen it before!
In the third book in Jasper Fforde's witty series Thursday Next is hiding out from Goliath in The Well of Lost Plots.
She and Pickwick are living in Caversham Heights, an unpublished book stored in the BookWorld's Great Library, the repository of all literature. Pregnant with a fatherless baby, married to someone who doesn't exist and plagued by Hades' tricks, Thursday's determined to come out fighting. Will she survive Miss Havisham's speed trial outside Swindon? Is literature's latest, greatest operating system destined to be the best thing since moveable type? Why are Jurisfiction agents dying? And, most important of all, will Thursday be able to remember her husband long enough to bring him back to life?

In this series Jasper Fforde's wild imagination rockets round literature, transforming perceptions of everyday life and illuminating the Nextian world with wit, erudition and humour. His books may take place in a parallel universe, but it's one that will involve you, amuse you, and make you proud to live in Swindon!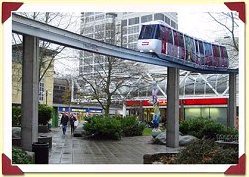 Town Centre Monorail:


What a great idea?!

When SwindonWeb saw the pictures that Jasper Fforde so brilliantly created to describe the world of his literary creation, Thursday Next, we knew they would make a great April Fool story.
And with his kind permission, that's exactly what we did on April 1st 2003, with a yarn about a new multi-million pound monorail being built in Swindon town centre. We aren't sure how many people were taken in by the story, but the more we look back at it, the more we think what a great idea it would be!
Fforde Ffiesta 2008
Convention celebrating the novels of Swindon author Jasper Fforde all set for May...

26 March 2008