Slimming
In Swindon, it's an obsession.
You'll find diet and weight control information on the front page of virtually every magazine in the newsagents. How did something so simple become so complicated? The key to weight control is keeping energy intake (food) and energy output (physical activity) in balance. When you consume only as many calories as your body needs, your weight will usually remain constant. If you take in more calories than your body needs, you will put on excess fat, as most of us know only too well.

That's where exercise comes in. It increases your energy output, calling on stored calories for extra fuel. Recent studies show that not only does exercise increase metabolism during a workout, but it causes your metabolism to stay increased for a period of time after exercising, allowing you to burn more calories.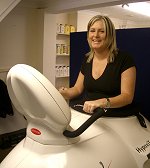 How much exercise is needed to make a difference in your weight depends on the amount and type of activity, and on how much you eat.
Aerobic exercise burns body fat, although one adult would have to walk more than 30 miles to burn up 3,500 calories, the equivalent of one pound of fat. Although that may seem like a lot, you don't have to walk the 30 miles all at once. Walking a mile a day for 30 days will achieve the same result, providing you don't increase your food intake to negate the effects of walking.

New therapies available work on this principle but at much higher concentrated levels. Hypoxi therapy, for instance, involves riding a bike inside a pressurised chamber which focuses the 'exercise' on the hips, thighs and buttocks (see pic. above right).

In general, if you consume 100 calories a day more than your body needs, you will gain approximately 10 pounds in a year. You could take that weight off, or keep it off, by doing 30 minutes of moderate exercise daily.
That's why experts agree that the key to weight control is a combination of exercise and diet.
SwindonWeb strongly recommends that anyone contemplating a programme of physical exercise consult their doctor before beginning the programme.