Barbury Castle
Barbury Castle Country Park

About five miles south of Swindon and the M4, on the northern edge of the Marlborough Downs.

Follow signs to Wroughton and then signs to Barbury Castle.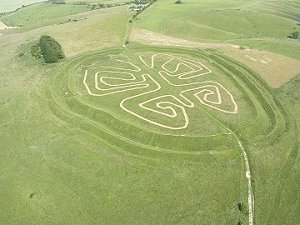 This Iron Age hillfort on the Ridgeway National Trail was the site of a battle where Cynric defeated the Britons in 556AD.

The Park offers 150 acres of unspoilt countryside with spectacular views across the Marlborough Downs and Swindon.

Now the home to one of six of Swindon's Local Nature Reserves [LNRs], Barbury contains many rare and protected species of wild flowers and plants - including twenty eight species of butterfly - half the total population recorded in the UK, and the inspiration of an amazing maze made at Barbury Castle last year (pic. above).