Coate Water Country Park
Swindon's favourite place
Originally a feeder reservoir for the Wilts and Berks canal that flowed through Swindon throughout the nineteenth century, Coate Water is now one of Swindon's most popular and picturesque pleasure parks - and it's easy to see why.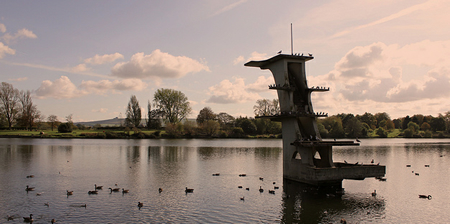 Also a nature reserve and an area of genuine scientific interest, Coate Water is the home to various activities for all the family.
We speak to Ranger Michael Lilley about the park and the facilities available there.
It sounds obvious, but one of the nicest things to do at Coate Water is to simply take in the beautifully-kept grounds as you stroll around the lake.
There's plenty of space for the kids (and the dog!) to run around - just make sure they don't fall in the water.
The picturesque surroundings also provide the perfect subject matter for any budding photographers.
And if you want something a bit more energetic, slip a pair of trainers on and take in Coate Water's scenery at a slightly faster pace.
We speak to Swindon Shin Splints about their weekly running group that's based at the park.
Rumour has it, a Swindon angler once pulled a 43lb Common Carp out of the lake at Coate Water.
Be warned, though, it's well known that to catch anything here you need a lot of time and patience.
More information on where you can and can't fish at Coate Water is available at the Ranger's Activity Centre.
If you're in any doubt about what to do at Coate Water, a firm favourite has got to be feeding the ducks.
But they're not the only animals you can see at the park, with a huge number of native and non-native birds, small mammals and other animals calling the park 'home'.
And if you're lucky, you might just get the chance to take a perfect photo like this!
Unfortunately public boating at Coate Water was stopped a few years ago, but many clubs, shools, and colleges still make full use of the lake for pleasure, practice and racing.
The lake is still regularly used by model boat enthusiasts, but permission is required from the Park Rangers.
Fancy yourself as the next Rory McIlroy? The pitch & putt at Coate is the perfect place to prove your skills on the green - just don't get a double bogey and embarrass yourself.
And if you don't feel like taking it all too seriously, there's also a top-notch mini-golf course to enjoy as well.
The Model Railway at Coate Water is a perfect summer and weekend family attraction for little lovers of all things steam.
A wide variety of trains are available to give rides on most Sundays throughout the year (during the school summer holidays there are also rides on Tuesdays).
Come rain or shine, hail or snow, the café at Coate Water has been serving visitors to the park food and drink for as long as we can remember.
It's even open on Christmas Day!
The park became well know as 'Swindon's Playground' when it first opened in 1822, and was eventually purchased by the Swindon Corporation after the the demise of the canal system in the early 1900s.
Maintained as an area of considerable natural beauty to '...be enjoyed by all the Swindon townsfolk' it was officially re-opened as a park in 1935 by Mayor, FT Hobbs.

To celebrate the occasion, diving champion, Cecile Cousins, was invited to perform the inaugural dive from the top of the new concrete diving stage. An act she performed with a perfect ten.
We speak to local historian Sophie Hart to find out more about the diving board's history & hear about her campaign to restore it.

Swimming was stopped in the reservoir in the 1960s due to pollution problems but the diving platform is still maintained, but not used, and is now one Swindon's most recognisable landmarks.
Parking is plentiful at Coate Water and closeby is a museum dedicated to Richard Jefferies, Swindon's most famous literary son (see link below), who found the park and its surroundings such an inspiration for his work.
Swindon Rowing Regatta
Oar-some sight as boats compete on Coate Water for the first time in 10 years...

14 September 2013