The Renault Building
Sir Norman Foster's striking design

Swindon's most acclaimed piece of architecture is Sir Norman Foster's former Renault Distribution Centre.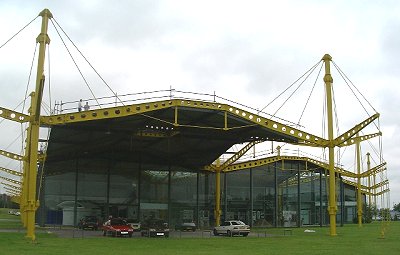 A design with va va voom:
the former Renault Building in Swindon

Designed under the Renault brief of "becoming recognisable within your market, you must also become recognisable in the environment", the world famous architect lived up to his reputation with a radically innovative approach that produced a structure with such an identifiable large, yellow roof that the building did not have a sign on it to identify the company - the roof was enough.

Opened on 15 June1983 by French Secretary of State for Consumer Affairs, Madame Catherine Lalumiere, the Grade II listed building is primarily made up of 42 identical 24 x 24m square bays, which housed a warehouse, distribution center, offices, a showroom for cars and trucks, a training school, and a restaurant.
The design won a number of awards in the following years including the prestigious Financial Times 'Architecture at Work' Award in 1984.
Renault moved out in 2001 when they transferred their operations to the East Midlands. After remaining empty for nearly four years, it is now home to a major Ford car dealer and a DVD distribution company.

As with the Motorola Building, Swindon's notable architecture attracted the producers of the Bond film "A View to a Kill" for scenes featuring 007, Roger Moore.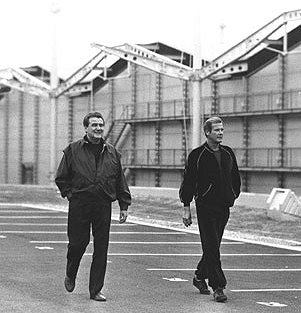 Premium Bond:
007 Roger Moore and Patrick MacNee
between scenes at the Renault Building

And what is even more surprising is that this was not Sir Norman's first Swindon FT winning design.
He won the same award for his design of the Reliance Controls Electronics Factory, Greenbridge, Swindon in 1967. The building was unfortunately demolished in 1991 to make way for PC World.

Key Facts:

Building dimensions: 288m x 96m Height
High point: 10m
Low point: 7.5m
Diameter of columns: 450mm
Car Darking spaces: 180
Total net building cost (1983 rates): :£8,266,400 or £349 per sq m
23,650 sq m total built area - shell cost: £210 per sq m
Services: £85 per sq m
Fittings: £53 per sq m

1984 Structural Steel Award
1984 Civic Trust Award
1984 Financial Times 'Architecture at Work' Award
1986 Constructa Prize for Industrial Architecture in Europa