Billie Piper
Swindon's pop star turned award-winning actress
It's not hard to be impressed with Billie Piper.
She's packed so much into her career to date, that it's still comes as a shock that this Swindon girl has only just turned 30 - let alone already written an autobiography.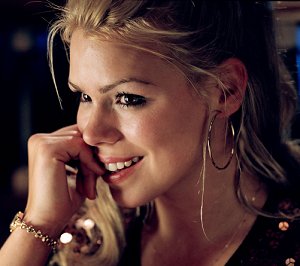 Swindon's brightest star:

Billie Piper

Now more famous for winning awards for her part as Rose Tyler in Doctor Who (see link below) and being the paparazzi's favourite ex-Mrs of TV personality Chris Evans; it must not be forgotten that as a 15-year-old pop princess she took the charts by storm on 5 July 1998 when she became the youngest female solo artist ever to debut at number one with her single, 'Because We Want To'.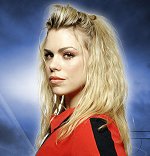 Billie, as Rose Tyler, in
Doctor Who
It propelled the name Billie into the public consciousness, and now, nearly a decade later, she's still riding high at the top of popularity stakes.

Yet it seemed to come as no surprise as this 15-year-old former Bradon Forest Schoolgirl had already been tipped as a likely star, well before she even hit pop stardom.

At 12 she had won a scholarship to the prestigious Sylvia Young Theatre School, and at 14 she was the face of teen magazine Smash Hits.

That exposure and her multi-talented singing and dancing persona led to a record deal and a place in music history.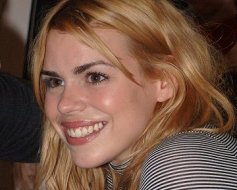 Billie in Swindon:
Highlights of our superstar's
booksigning visit
In the event, her reign at the top of the pops lasted just one week, but Billie had already established herself as a name to watch on the fast-changing pop scene and it was no surprise when 'Because We Want To' turned into a worldwide hit.

Her next single, called 'Girlfriend', showed she was no one-hit wonder by following suit and going straight to number one.
'She Wants To' and the much acclaimed R 'n' B tune 'Honey To The Bee' both then reached number 3 in the coming months.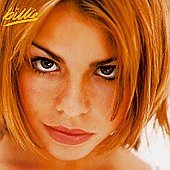 Billie's first album,
'Honey to the Bee'
Her first album, also called 'Honey To The Bee', went platinum in October '98. And that led to Billie being nominated for two Brit Awards the following year.

While others of her age were taking their GCSE's, Billie then took a one year break to reflect on the fantastic success that she had achieved and to develop her song writing skills.

She also found time to be seen out doing the things that any typical teenage girl would be doing, and to spend time with her then boyfriend Richie from Five.

This relationship however floundered due to the pressure of both their schedules, but Billie bounced back in typical style by going straight back to number one in May 2000 with the powerful, up-tempo single 'Day and Night'.

Her next single 'Something Deep Inside' also racing straight into the top ten at Number 4 in the September, followed closely by the release of her much awaited second album 'Walk of Life' the following month.

But even at 18, Billie was critically aware of how her own musical style, the music business and how her personal life had changed since she first hit the charts.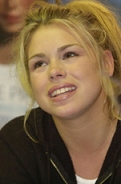 © Calyx Multimedia
"I wanted to try out a few different styles of music this time," she said. "I'm still a huge Madonna fan, but at home, I listen to everything from Artful Dodger to George Michael and I thought the new songs should reflect that. Also, I'm two years older, my voice has changed and I've become more confident. I was ready to experiment and be a bit more adventurous. I wanted the songs to be less clean cut. I wanted them to have an edge."

"On the first album, I was basically saying that I was young and happy and that everything was great," she says. "This time, I want to sing about real things, whether they were good or bad. The songs are much more personal. They have a real meaning and truth."

Besides the obvious influence of her producer Elliot Kennedy, Billie collaborated with a number of other writers and producers on her new album, including Rick Mitra & Pam Sheyne (Christine Aguilera), Stargate and Later Inc, a new team of writers from Sweden.

"Later Inc gave me an amazing track", says Billie. "It's called 'Ring My Bell'. It's midtempo and quite sexy, but also very sweet. And it has some crazy sounds in it. It's a very clever pop song. I went to meet the guys in Sweden because I was going to write with them, then they played me 'Ring My Bell' and as soon as I heard it I had to have it."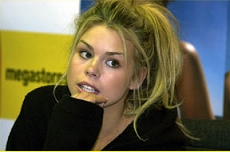 In Swindon:
Launching a single
at the Virgin Megastore in 2000
© Calyx Multimedia
With her new direction came a new maturity for Billie. To reflect the point she added her surname to her stage-name so that she would know as 'Billie Piper', not just 'Billie'.

But unfortunately, despite favourable reviews, her album 'Walk of Life' failed to sell. And when the title single of the same name only charted at number 25 - her first single not to go top 5 - it heralded another break for Billie to re-consider her options.

She then, of course, was invited onto Chris Evans' programme, TFI Friday, in 2001, on which the ginger DJ and media mogul took an instant liking to the teenage star - an attraction that was reciprocated in front of the millions of viewers watching the show.

The rest, as they say, is history.
And after bombarding Billie with presents - including a Ferrari filled with red roses (even though Billie couldn't drive!) - they embarked upon a whirlwind romance.

No one - least the media - said it would last (he was 35, she was still only 19), but after marrying in Las Vegas in 2001, the unlikely pair took off on a 2 year honeymoon that saw both of them take a career break.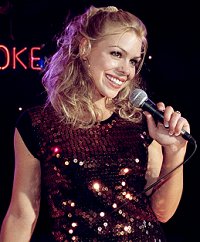 First major role:
Combining
her two great loves -
acting and singing in the BBC
adaptation of The Canterbury
Tales
© BBC
When the novelty of that eventually wore off, it was Piper not Evans that surprisingly found herself back in the limelight far sooner than expected.

By turning her back on music and concentrating on acting - ironically encouraged by Evans - Billie landed parts in a number of high-profile programmes including BBC's fresh adaptation of Chaucer's Canterbury Tales 'The Millers Tale' and one-off drama 'Bella and The Boys'.

Alas, the pressures of fame and the 16-year age gap eventually led to the breakdown of their marriage in 2004.

Still close, Billie even thanked 'Mr E', as she refers to him, when she took to the stage at the Royal Albert Hall to receive her award for 'Most Popular Actress' at the National TV Awards in 2005.

Never known as 'Mrs E' herself, Billie, by the way, is her real name, though it was very nearly Leanne. Her parents actually registered her as such but changed their minds after three weeks.

She only went to Bradon Forest School for a year before attending a stage school in London and, because of her busy schedule, had private tuition.

Although now London based, Billie still regularly visits her home-town were her parents and two younger sisters still live.

She was most recently seen enjoying the town's fantastic nightlife with local friends at The Apartment and Longs Bar in September 2004.

Since her meteoric rise to fame in 1998, it is hard to believe that the former pop-princess is still in her early twenties and no longer the chart-topping act that stormed the hit parade on six seperate occasions.

But, with a new glittering career no doubt ahead of her as an actress, we have every reason to think that the best is yet to come for our Billie - Swindon's brightest star.

Watch this space.

Fact File
Name: Billie Paul Piper
Date of Birth: 22nd September 1982
Height: 5' 5"
Eye Colour: Hazel

Discography - UK Singles
| | | |
| --- | --- | --- |
| Name | Date Released | Chart Position |
| Because We Want To | 28 June 98 | 1 |
| Girlfriend | 05 October 98 | 1 |
| She Wants To | 07 December 98 | 3 |
| Honey To The Bee | 22 March 99 | 3 |
| Day & Night | 15 May 2000 | 1 |
| Something Deep Inside | 18 September 2000 | 4 |
| Albums | | |
| Honey To the Bee | 19 October 98 | |
| Walk Of Life | 15 October 2000 | |
Best Of Swindon 2013
Jahmene Douglas headlined an Oasis concert that didn't disappoint, writes Mallory Nicholson - REVIEW + GALLERY

27 May 2013

The Duchess & Doctor Who!
Royalty opens new charity shop at Uplands School - and takes home Timelord memento - SEE PICTURES

25 April 2013

Chart Topper!
It's a number one single for Swindon singer Josh Kumra - WATCH VIDEO...

22 August 2011

Billie's Back
Swindon star confirms return to Doctor Who...

28 November 2007