Jamie Cullum
Swindon's Jazz Sensation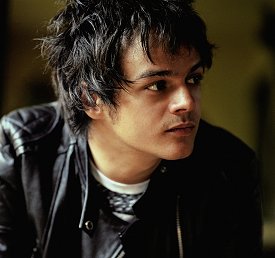 Swindon Jazz star:
Jamie Cullum
Jamie Cullum is the jazz star who was playing Swindon way before the rest of the world heard of him.
Presently enjoying his new star status as one of the biggest-selling jazz artists of all time, it's hard to believe that the pianist and all-round musical maestro - described in the USA as
'Sinatra in Sneakers'
- only got noticed after he used a student loan to record his first album.

Before that it was regular appearances at Pizza Express in Old Town, gigs in pubs, clubs and restaurants, plus the odd wedding, that paid his way while he perfected the act that has now made him a household name.

The rest, as they say, is history.
Jamie Cullum - What a Difference a Day Made
And now, after the huge success of his platinum-selling albums, 'Twenty Something', (which sold more than three hundred thousand copies in the first month alone) 'Pointless Nostalgic', 'Changing Tales', 'In The Mind of Jamie Cullum' and 'The Pursuit' - not to mention enjoying a sell-out series of gigs around the world (plus an appearance at the Queen's birthday bash), Jamie is one big star.

Success that Jamie is more than happy to admit would never have happened if it hadn't been for his big brother, Ben.
"He's been the biggest influence on my music career," how Jamie describes him.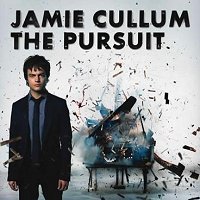 His older sybling a respected musician and songwriter in his own right, who nows spends more and more of his time working with Jamie composing new material and touring.
That and watching their beloved Swindon Town FC!
Jamie a regular visitor to the County Ground when he gets time away from his increasingly hectic schedule.
A passion aside from jazz he shares with father John Cullum and, it would seem, with his wife, former supermodel Sophie Dahl.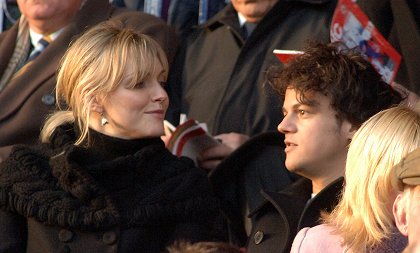 Jamie and girlfriend Sophie Dahl watching Swindon Town
just before Christmas in 2007
The pair snapped by SwindonWeb when they took the stands to watch a game just before Christmas 2007 while still dating. Now that's love for you!
In fact, admirers of our very own jazz sensation may be surprised to know that Town fans were some of the first people to recognise Jamie's undoubted talents when his father, John, paid for an advertising hoarding to be placed at the County Ground in 2002 (where it still remains).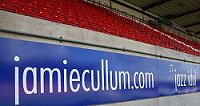 Football and all that jazz:
the Jamie Cullum banner at
STFC
It proclaims 'Jamie Cullum - Jazz Idol!' and was put up on the Nationwide Stand just before Jamie recorded his second album, 'Pointless Nostalgic'.

Released under the minor Candid label (who had signed Jamie in 2001 after the success of his self-funded 'The Jamie Cullum Trio - Heard It All Before' album) it proved a massive hit and catapulted the then 23-year-old into the media spotlight with its unique blend of cover versions and contemporary classics that mixed the best of Sinatra with the likes of Radio Head and Hendrix.

Jamie's first major
album -
Pointless Nostalgic
The resulting publicity and airplay then made the recording big boys sit up and take interest.
And it then came as no real shock when record label Universal eventually snapped Jamie up in a headline-grabbing £1 million pound record deal in April 2003.
A deal they described at the time (and since) as 'one of the best we've ever made.'

It was also a decision that proved John's forsight and confidence - plus his timely investment - as more than just fatherly encouragement.

now that's fame for
you!
Speaking to SwindonWeb on the morning his ground-breaking contract was announced, a thrilled Jamie said:
"It has come as a complete surprise that the record company think so highly of me.

"I'm still coming down from the shock, really.
"One minute I'm playing the jazz scene in London, the next I'm supposed to be the next big thing in jazz. I just hope I can live up to my reputation!"

Schedule permitting, the rising star of the pop world also likes nothing better than being back in his home town doing what comes naturally - entertaining an enthralled audience - as he has done in 2003 at the opening of the Swindon Jazz Festival (pics below) and at a specially arranged one-off, charity performance at the Apartment on 21 December 2003.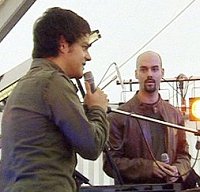 Jamie Cullum and his brother
Ben play a duet at the
Swindon Jazz Festival 2003,
and opening the new Swindon
HQ of his father's business
in 2005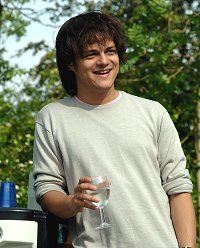 But as a renowned world artist, you are, of course, more likely to catch Jamie on TV or listening to him talk jazz and interview his favourite singer songwriters every week on BBC Radio 2.
Indeed, it was Michael Parkinson who played such a major part in promoting the then un-known Jamie when the legendary interviewer described him as "the greatest living jazz talent" on his own BBC Radio 2 show.
That continued with regular appearances on Parkinson's legendary chat show (including the last-one ever recorded) plus, most recently, as one of the star guests of Parkinson's new 'Masterclass' in 2012.
Jamie has also been the subject of a one-hour special with Melvyn Bragg on the South Bank Show.
To confirm his global popularity, Bob Geldof signed Jamie to headline the Live8 concert in Edinburgh in 2006.
Just when Swindon's finest will be returning to play here again, we don't know. But there are high hopes for a possible gig in 2014 to coincide with a new album.

Whenever it happens, it'll be a home-coming to savour.
Jamie Strikes A Chord!
Swindon jazz sensation Jamie Cullum wows pupils at Old Town's Commonweal School - SEE PICS

29 September 2015

Swindon Jazz Festival 2010
Twenty top acts on one-day play venues in Old Town, and it's all FREE - SATURDAY 19 JUNE...

11 June 2010

Win A Signed Album
We've an autographed copy of Jamie Cullum's latest to give away...

21 November 2009

Jazz in Swindon
Our November gig guide with Swindon's king of all things jazz, Dave Knight...

22 October 2008

Justin Hayward
Happy 70th birthday to Swindon's rock God and Moody Blues legend...