From Kent Road to Cannes
Diana Dors: the Swindon girl who made it big before the days of botox and boob jobs
There was a day in TV and film when you either had it or you didn't. And one Swindon girl most definitely had it.
Diana Dors may never have lived up to her billing as "Britain's answer to Marilyn Monroe", but the Swindon-born actress was certainly the darling of the British post-War movie industry, and when she died sadly on 04 May 1984, aged only 52, she had long since become one of the country's best-known and best-loved actresses.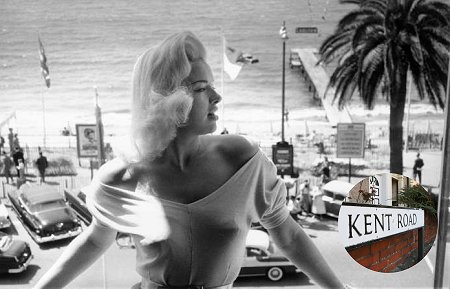 Diana Dors poses at the Cannes Film festival in 1956, 25 years after being born in Kent Road, Old Town, Swindon
Born at Haven Nursing Home, Kent Road, Swindon, on 23 October 1931, Diana Mary Fluck came close to death during a difficult birth that also nearly claimed her mother, Mary.
Her father, Bert, worked in the accounts office of the Swindon GWR Works and the small family lived at 210 Marlborough Road.

Diana, who had to wear a patch as a young girl to correct a lazy eye, had naturally brown hair, but by the time she was eight, the pupil at the private Selwood House School in Bath Road was already writing essays about becoming a glamorous film star.

During the Second World War the schoolgirl entertained troops in concerts organised by her father who had been a pianist at the Empire Theatre and when she was 14 she convinced her parents to allow her to pursue a career in acting, becoming the youngest-ever student at the London Academy of Music and Dramatic Art (LAMDA).

She left behind a town that she had outgrown before her 15th birthday, including a young Desmond Morris, with whom she had danced the jitterbug at the Bradford Hall, now the Arts Centre in Devizes Road.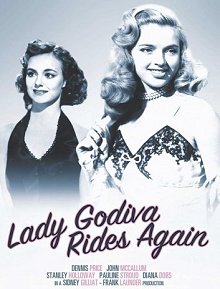 Diana excelled in her first year at LAMDA and with a new stage name - Dors was her grandmother's maiden name - and newly-dyed blonde hair, she quickly began to win small film roles, starting with Shop at Sly Corner, starring Oscar Homolka.
Holiday Camp (with Jack Warner) and Dancing With Crime (with Richard Attenborough) soon followed and when she was accepted into a school for young actors set up by J Arthur Rank she was already an established film actress.
Her first major role was in the 1948 film, Here Come The Huggets, again alongside Jack Warner, and she had a leading role in Diamond City, a year later.
But it was Lady Godiva Rides Again (1951) which launched her as a sex symbol after the American Board of Film Censors temporarily banned the film for being too risque and later insisted Diana's navel be covered up for the US version.
Her success was such that, aged 17, with money rolling in she bought a Delahaye Roadster 175S for £5,000 (equivalent to £100,000 today) before she'd even passed her driving test! (The car was sold in 2011 for £2 million at auction).
And in 1951, the girl born in humble beginnings in Kent Road became the youngest registered owner of a Rolls Royce in the UK.

To say Diana was on a roll would be an understatement and, most importantly, for an actress, her timing matched perfectly with her ambition.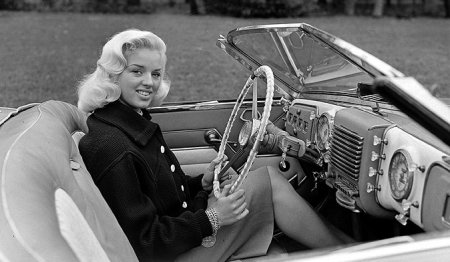 Diana Dors in the £5,000 Delahaye she bought aged 17
By 1953 Marilyn Monroe had become a huge star on the other side of the Atlantic and at home people were already looking to Diana to become Britain's very own version of the blonde bombshell.

The Weak and the Wicked (1953) became a major hit and Diana's star status was confirmed in 1955 when she was presented to the Queen at a Royal Command Performance.
She was also featured on This Is Your Life - and over 25 years later was destined to become one of a select band of personalities to be the subject of the programme for a second time.
Britain's highest-paid film star

In 1956 she was voted the Variety Club's Show Business Personality of the Year and her new film, Yield to the Night, was chosen for the Royal Command Film Performance.
Diana was now Britain's highest-paid film star and was, at last, ready to make the big step to Hollywood.
Sadly, she had already reached the peak of her career and never became the international star that her success in Britain had seemed to promise.
Bad press from incidents involving her husband, playboy Dennis Hamilton, and a "scandalous" affair with Rod Steiger did not help her popularity and her Hollywood films failed to make an impact.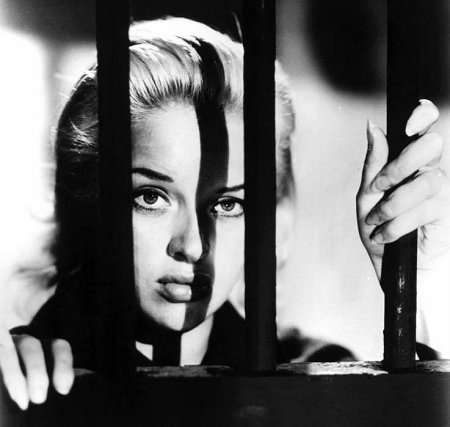 Diana Dors in Yield To The Night

Back at home, Diana faced two personal crises - the death of her husband in 1959 and, in the following year, an account of part of the couple's lavish and sometimes stormy marriage which appeared in a national newspaper and led to her being denounced by the Archbishop of Canterbury!

Her career was now in serious decline and she was finding it increasingly difficult to find the highly-paid roles to match her expensive lifestyle. The 1960s were not a good decade for Diana Dors.
Divorce from second husband, comedian Dickie Dawson, plus bankruptcy and the gradual drying-up of worthwhile roles suggested her career was coming to an end, but she was ready to bounce back - and it was partly The Beatles she had to thank for renewed public interest.
The cover of the band's most famous album, Sgt. Peppers Lonely Hearts Club Band features a colourful collage of life-sized cardboard models of famous people put together by Peter Blake, an iconic piece of art that for many summed up the 1960s and the '67 'Summer of Love'.

And in pride of place in the front row next to John, Paul, Ringo and George was Swindon's very own - Diana Dors.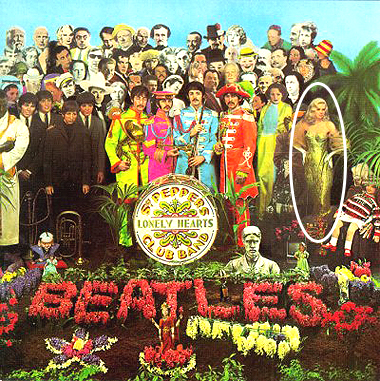 Diana Dors on the cover of The Beatles Sgt. Peppers album

Diana was chosen personally by the group as one of the key personalities and heroes that had most influence on their lives, especially when they were growing up.

Her distinctive face and blonde locks - in a gold dress and white gloves - appeared amongst 73 other historical figures from around the world including Oscar Wilde, James Dean, Karl Marx, Bob Dylan, Shirley Temple and Marlon Brando to name but a few.

Her appearance was all the more significant when you consider the likes of Elvis Presley, Mahatma Gandhi and even Jesus Christ himself weren't included.

Most importantly to Diana, she featured more prominently than the woman she was often compared with - Marilyn Monroe, whose head appears in the centre, second row.
The unlikely attention it attracted heralded happier times and, crucially, a return to recognition as an actress.

Her third marriage - to actor Alan Lake, late in 1968 - followed in the New Year of 1970 with critical acclaim for Three Months Gone on the West End stage where she played opposite her new husband.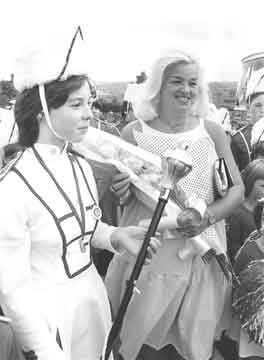 Back home:
Diana Dors during her final
visit to Swindon
But Diana, the former sex-siren, had now become the archetypal buxom blonde and a succession of roles in quirky, low-budget sex comedies and horror movies may have kept the taxman from the door, but it was far removed from her heady days as Britain's top actress.

There were also more personal traumas around the corner, including an attack of meningitis in 1974 which put Diana in a coma.
Her subsequent full recovery surprised doctors who thought she would not survive the disease but had underestimated her durability.

No such recovery ever came in her acting career, but she was still regularly in the public eye as a guest on TV chat shows and panel games and still won the occasional film role as a character actress.
This was a time when the British public seemed to regard her with real affection and the 1980s saw her win new fans as a personality on breakfast television - first by leading a "slim-in" and then as an agony aunt.

But even as she was helping to sort out other people's problems, she was having to deal with her own. In 1982 she had overcome cancer, but just over a year later it had returned.

Her new film, Steaming, was to be her last and Diana Dors died on 4 May, 1984.

Swindon remembers her with a bust in the foyer of the Wyvern Theatre and, most fittingly, a life-size statue of her stands outside the Cinewordl cinema at Shaw Ridge the culmination of a campaign begun by former Mayor of Thamesdown, Jim Masters, who had known Diana when they were both children.
He said: "I think it's important that something goes up in her memory. We have not produced many famous people and she was famous for being a tremendously good actress and a good, loyal Swindonian."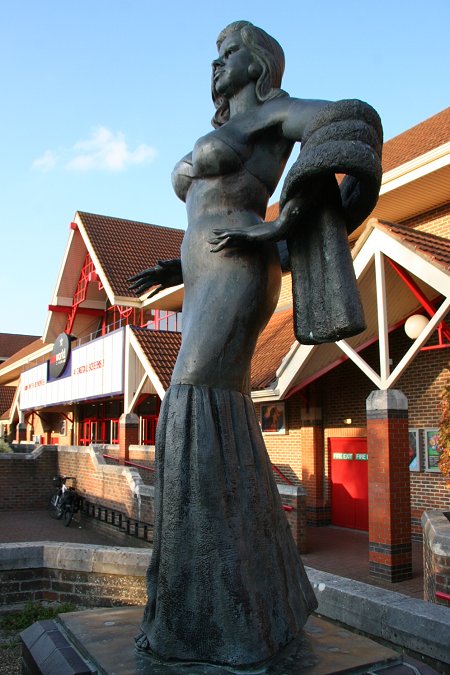 the statue of Diana Dors at Shaw Ridge and below
a bust in the Wyvern Theatre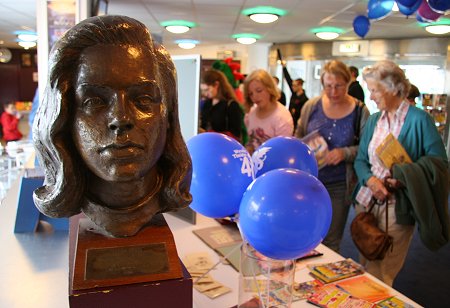 Her relationship with her home town, though, had not always been good. During the worst 'scandals' she was criticised by some local people and she was quick to retaliate, but Diana returned regularly to visit her parents and seemed proud of her roots.

She once recalled: "I suppose in my way I have appeared rather nasty about Swindon, but it is home to me. It has a lot of happy memories. I was pleased to get away years ago because I was full of ambition. I think Swindon would not bring itself to admit it had fostered a star - and a controversial one at that.

"They thought I would come back here and amount to nothing. You always find jealousy and lack of recognition in your own home town. I have seen it happen to other people in all parts of the world. They think 'You are the same, so why should you be looked on as anything different?'"

But she was different. Diana Dors was possibly one of the most underrated actresses of her time and certainly one of the most recognisable British faces since the war, and still is.
And Swindon is proud of her.
Diana Dors: 23 October 1931 - 04 May 1984
It Was 50 Years Ago Today!
How Swindon played its part musically & graphically in the making of the Sgt. Peppers Lonely Hearts Club Band....

23 May 2017

Love. Peace. And Diana Dors!
Swindon's most famous actress honoured with heritage plaque at her birthplace in Kent Road, Old Town - PICTURES & FULL STORY

14 January 2017

Nineteen Eighty-Four
RICHARD BURTON'S LAST FILM: Swindon's connection to the movie of the George Orwell classic - 30 YEARS AGO THIS MONTH

The Beatles
50 years on from their first UK hit - here's the FIVE links between Swindon and the fab four...