Melinda Messenger
Melinda Messenger is as close to a real-life "overnight success" as it is possible to get.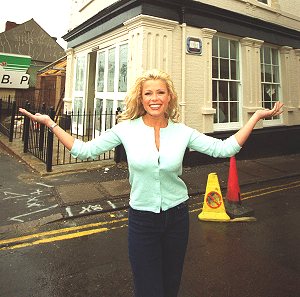 What a star:
Melinda Messenger in Swindon while paying
a visit to Longs bar

Now a well established TV personality and a mum of three, Melinda was little-known outside her home town of Swindon until 28 January 1997 when she caught the eye of the associate editor of the Daily Star after appearing in an eye-catching advertisement for Glevum Windows in Gloucester.

She suddenly found herself in a revealing centre-page spread which started a tabloid frenzy that had all the red-tops clambering over each other for her attention.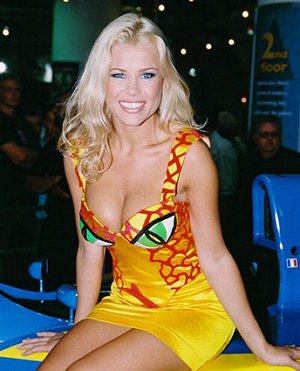 Centre of attention:
Melinda was the face on nearly every
magazine after first hitting the headlines
in 1997

The Star's main rival, The Sun, immediately stepped in and 24 hours later had christened her "The Page Three Girl for the Thrillenium" and splashed most of her over most of their pages. Before the week was out, it would have been difficult to find anybody who hadn't heard of Melinda - even if few knew where she had come from.

Born in Swindon on 23rd February, 1971, Melinda is now five feet, four inches tall and has vital statistics of 34DD,22,34.
But there is more to her than meets the eye. She surprised the critics when she became a presenter on Sky TV's Live Six Show and breaks the mould of the archetypal 'dumb blonde'.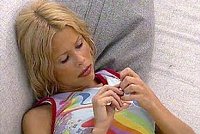 Celebrity Big Brother:
Melinda finished 3rd in the
2002 show
Channel 4

Now her TV career is going from strength to strength. After guesting as presenter of The Jack Docherty Show on Channel 5, Melinda proved such a hit that she then hosted a chat show all of her own called Melinda's Big Night In.
That led to such shows as Fort Boyard, Beat the Crusher as well as guesting on numerous programmes including Wish You Were Here, Pulling Power, TFI Friday, Ready Steady Cook and most famously in the second series of Celebrity Big Brother (see link below).

Melinda was managing a customer services department for marketing company GWC when she suddenly became a star in The Daily Star and even the snootier Mail on Sunday had to admit: "She's a nice, intelligent, natural girl with an amazing figure and beautiful looks - she just has 'it', whatever 'it' might be."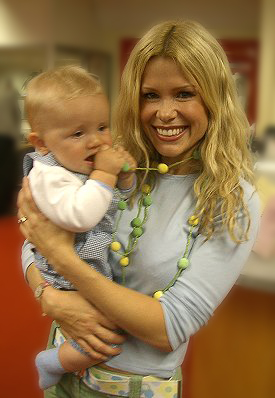 Supporting Swindon:
Melinda's love of children and local
causes brings her back home on regular
occasions

But Swindonians love Melinda for just being Melinda. Never will you see her putting on airs and graces, and never will you see her being anything but positive about anything. And that includes when she is talking about Swindon. She doesn't have a bad word to say about her home town.

And her home town doesn't have a bad word to say about her.
After marrying long-term boyfriend, Wayne, in Bali in 1998, Melinda has given birth to two sons, Morgan (2000), Flynn (2002) and, after being voted 'Celebrity Mum of the Year' in 2003, gave birth to a daughter, Evie, at Christmas of the same year.

Although Melinda and her family have now recently moved to Berkshire to cut down on travelling time to working engagements in London, and to be closer to chosen school for their children, her father Terry and brother Warren still live in Swindon.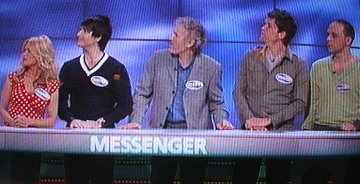 Family Fortunes:
Melinda with Wayne, father Terry, brother Warren
and close friend Howard

The three of them - Melinda, Warren, Terry - plus close friend even joined up to raise more than a few laughs - and money for her favourite charity, Action Aid - on ITV's gameshow All Star Family Fortunes in November 2006. A programme that revealed Melinda's hidden talent for burping names and for strange thoughts when in a lift!
In April 2008, it was announced, however, that Melinda and her husband had embarked on a trial seperation, and still remain apart today.
Melinda admitting in interviews that their move away from Swindon had caused considerable stress, and that she missed her home town incredibly. She remains a weekly visitor to see friends and family.
Now 37, Melinda is currently the presenter of BBC property programme 'To Buy or Not To Buy' and is rumoured to be the next face of lingerie giant Ultimo.
She remains committed to her charity work, most importantly her promotion of initiatives concerning fostering children, something Melinda has always indicated she would like to do in the future.
In July 2008, she made a surprise return to the paper that made her famous - by appearing on page 3 of the Sun, although refrained from baring all.
Thanks For The Mammaries!
The days when our Mel was The Page 3 Girl Of The Thrillenium & Sam Fox brought Swindon town centre to a standstill! PAGE 3 GIRLS IN SWINDON

20 January 2015

Melinda's a top mum!
Our favourite Swindon girl named one of Britain's sexiest mums...

04 March 2008