Gilbert O'Sullivan
Swindon's 70s singing superstar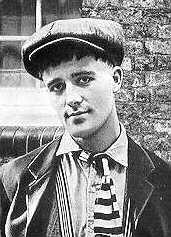 More than a quarter of a century on, it can be easy to forget just how much of a star Gilbert O'Sullivan was in the early 1970s.
- biggest selling solo artist in the world 1972
- outsold Elton John & Rod Stewart
- Alone Again (Naturally) number one in the USA for 6 weeks
Topping the British 'Hit Parade' (as it used to be called) was no mean achievement in those days - especially in the States - and to do it with successive records secured the one-time Walcot man a place in pop history.

Gilbert O'Sullivan - whose real name was Raymond - was born in Waterford in the Republic of Ireland, on 1st December, 1946. His father, a builder, brought the family to Swindon when Ray, who was one of six children, was only 12.
Tragically, his father died only two years later.

Young Ray was educated at St Joseph's and later at the Swindon College of Art, where he even played drums in a band founded by Rick Davies of Supertramp fame (see link below). The family lived in Frobisher Drive and Ray briefly worked as a postal clerk.

Of course, his real love was songwriting, but despite winning a recording contract with CBS, he was to enjoy no overnight success. What Can I Do? flopped and, following a switch of record companies, Mr. Moody's Garden did likewise.

Still confident of his own abilities, Ray sent a demo tape to Gordon Mills, who had already guided Tom Jones and Engelbert Humperdinck to international success. O'Sullivan was relaunched on his new MAM label under the name of Gilbert, along with a 'Bisto Kid' image, complete with short trousers and pudding basin hair cut.
The new song, Nothing Rhymed, released in November, 1970, hardly needed the gimmicks, but as it climbed to number eight in the charts, the Swindon man's future was already assured. The image, by the way, was all Ray's own idea and lasted for the first few releases.
His second single on the MAM label was Underneath The Blanket Go, which barely scraped into the top 40, but Gilbert had some enormous hits in the pipeline. We Will made number 16 in the summer of 1971, followed by No Matter How I Try - the first of five consecutive top ten hits in Britain.

The thoughtful Alone Again (Naturally) stormed to number three in Britain and confirmed his worldwide appeal when it went right to the top of the American charts for 6 weeks.

The debut album, Himself, was also well received and included the catchy Matrimony, which might have provided him with his first British number one if it had been released as a single.

But he didn't have long to wait for a chart-topper.
After Ooh-Wakka-Doo-Wakka-Day, which made number eight, came probably Gilbert O'Sullivan's greatest hit, Clair, written in honour of manager Mills's young daughter, which headed the British charts for two weeks in November, 1972 and also made the top ten in the United States.
Get Down repeated the success of Clair, as Gilbert clocked up well over ten million sales to make him the biggest selling solo artist in the world that year, outselling megastars Elton John & Rod Stewart in the process.
A second album, Back To Front, also made number one in the UK.

Sadly, only one more top ten hit followed in Britain - Why Oh Why Oh Why, in November, 1973 - and in the summer of 1975 he fell out with Mills and returned to CBS, where he had little more success than with his first association with them. His disillusionment culminated in a High Court battle against his former manager which made legal history in 1982.

Gilbert won millions in substantial damages and had all agreements with MAM set aside as well as forcing master tapes and copyrights to be returned.
The case had far-reaching repercussions for the British music publishing world, but while he celebrated, Gilbert O'Sullivan still failed to emulate his former success as a songwriter.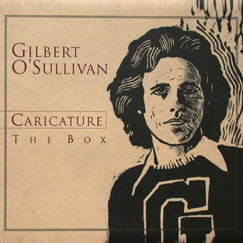 the limited edition box set Caricature
album cover was designed by old friend
and Swindon artist Ken White
Now living in Jersey, he continues to release albums including one in 1988 which was called Frobisher Drive - thus recalling his 'home town' where his mother and sister still live today.
Strangely, it was released only in Germany, one of several places around the world where he retains a strong following. He still records today and is due to release a new album in summer 2009.
In 2008, he made a surprise return to the stage by headlining at the Glastonbury Festival.

The ability to combine catchy tunes with clever lyrics is a dying art in today's hollow music industry and it is therefore small wonder that Gilbert O'Sullivan is still regarded with great affection as one of the best singer-songwriters Britain has ever produced.
Gilbert O'Sullivan Discography: Singles
(Numbers shown are the highest chart placings)
8 Nothing Rhymed [1970]
40 Underneath The Blanket [1971]
16 We Will [1971]
5 No Matter How I Try [1971]
3 Alone Again (Naturally) [1972] #1 in the USA for 6 weeks
8 Ooh-Wakka-Doo-Wakka-Day [1972]
1 Clair [1972]
1 Get Down [1973]
18 Ooh Baby [1973]
6 Why Oh Why Oh Why [1973]
19 Happiness Is Me And You [1974]
42 A Woman's Place [1974]
12 Christmas Song [1974]
14 I Don't Love You But I Think I Like You [1975]
19 What's In A Kiss? [1980]
70 So What [1990]
Gilbert O'Sullivan Discography: Albums
(Numbers shown are the highest chart placings)

15 Himself [1971]
1 Back To Front [1972]
2 I'm A Writer Not A Fighter [1973]
9 Stranger In My Own Back Yard [1974]
13 Greatest Hits [1976]
98 20 Golden Greats [1981]
50 Nothing But The Best [1991]

- Sounds Of The Loop [1992]
- By Larry (also known as 'The Little Album') [1994]
- The Best Of Gilbert O'Sullivan: Live In Japan [1995]
- Every Song Has Its Play [1995]
- Singer Sowing Machine [1997]
- Irlish [2001]
- Piano Foreplay [2003]
- Caricature Box Set Limited Edition [2004]
19 The Berry Vest of [2004]
- A Scruff At Heart [2007]
An Album Ahead Of Its Time
50 years on from The Moody Blues' grounbreaking 'Days of Future Passed' written by Swindon Rock God Justin Hayward#madeinswindon

05 November 2017

'Lunchtime' at the Museum
Ken White painting acquired by the Friends of STEAM (so isn't it about time he was recognised at the Swindon Gallery itself?)

29 October 2013

Best Of Swindon 2013
Jahmene Douglas headlined an Oasis concert that didn't disappoint, writes Mallory Nicholson - REVIEW + GALLERY

27 May 2013

Ken White - The Big Picture
Renowned Swindon painter & mural artist hosts a show to celebrate his 70th birthday at The Post Modern Gallery - 23 APR-02 MAY - SEE PICTURES

Get Down Swindon!
Gilbert O'Sullivan - number one in the charts 40 years ago this week - WATCH VIDEO

06 April 2013

Chart Topper!
It's a number one single for Swindon singer Josh Kumra - WATCH VIDEO...

22 August 2011

Ken White Exhibition
Local artists work to be exhibited at Great Western Hospitalís NHS Foundation Trust...

08 October 2010

Ashes to Ashes
Swindon's connection to the time-warp cop show...

28 March 2008

Ken White
Swindon's famous mural man and artist...

Justin Hayward
Happy 70th birthday to Swindon's rock God and Moody Blues legend...