Nice one, Bob!
30 YEARS AGO: Remembering the first time an Anderson won the World Darts title - and he came from Swindon!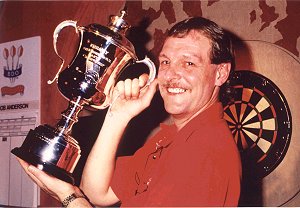 Bob Anderson with the World Championship
trophy, 17 January 1988
Not many Swindonians can claim to have been a world champion, but Bob Anderson was on top of the world in the late 1980s.

As a schoolboy in Swindon, however, it was darts on a much bigger scale that were expected to make his name.

Bob was England Schoolboys Champion in javelin in 1963 and was hoping to compete in the 1968 Olympics in Mexico, but back problems, which have plagued him for much of his life, put paid to what seemed a promising career in athletics.
Instead he turned to much smaller spears, taking up darts seriously in 1972. This time, glory wasn't to be denied him and he was eventually forced to give up his job as an assistant manager with the DHSS in Swindon to become a professional darts player.

'The Limestone Cowboy', as he was affectionately known in the darts world, soon became a household name as the sport of darts gained a big new following among TV viewers.
Embassy and Masters double
His hat-rick of World Masters titles in 1986, 87 and 88 is still unsurpassed, but it is the 1988 season that he truly became the best in the world when he added the 'big one', the Embassy World Professional Championship, to achieve the double of both Masters and Embassy in one year.
A magic twelve months that also saw Swindon's arrow master bagging the World Matchplay championship, the British Open and the Pacific Masters titles.
Embassy World Darts Final 1988
Final Leg

Since his victory, he narrowly failed to regain the world title on several occasions, but still remained the most consistent player on the circuit despite continuing problems with his back.
Until very recently he was the only man to be ranked in the top twenty in the world for 20 consecutive seasons.

Even though he celebrated his 70th birthday in November 2017, the darts world has by no means seen the last of Bob Anderson, with the former world champ still appearing in exhibitions and legends' event.
His last hurrah at a major title excellent performances came in the World Matchplay in 2002 and back-to-back World Championships semi-finals in 2004 & 2005.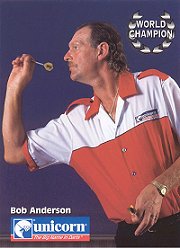 in
2004 & 2005 - 16 years
In the meantime, he is a true all-round sportsman as he underlined in 1994 at Marlborough Golf Club, realising every golfer's dream by sinking a hole in one.

No wonder he seems to do everything with a smile. And no wonder Swindon - and particularly Stratton, where he spent much of his life before 'retiring' to Somerset in 2002 - takes its hat off to him.

World champion or not, the most pleasing thing for us, who have cheered him on over the years, is that Bob Anderson has always remained "one of us".
Bob Anderson's Major Darts Titles:
World Professional Champion 1988
World Masters Champion 1986, 87 & 88
World Pairs Champion 1986 & 95
World Matchplay Champion 1988
World Champions Champion 1990
British Open Champion 1988
Pacific Master 1987, 88 & 89
Legends of Darts
An evening of bulleyes & banter with Bristow, George & Mardle at The Moonrakers - 16 JUNE - WATCH VIDEOS