Senses Working Overtime
40 years on from their biggest single & album, we celebrate Swindon's greatest-ever band, XTC - WATCH VIDEOS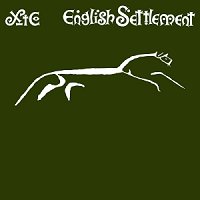 UK Top 5 Album:
English Settlement,
Looking through our SwindonWeb archives recently we stumbled across a date that will bring back memories for many of you who enjoyed the late Punk/Romantics era of the early 1980s.
It was in February 1982 that arguably Swindon's greatest-ever band, XTC, released their most successful single, Senses Working Overtime, from their fifth studio album, English Settlement, which also hit top 5.
All the world is football shaped
The White Horse at Uffington is the instantly recognisable image on the album cover, plus Town fans will recognise its lead single, of course, from the tannoy at the County Ground every time Swindon score.
Watch XTC's performance of Senses Working Overtime on Top of the Pops
(apologises for Andy Partridge's truly awful lip syncing - you weren't allowed to sing live on Top of the Pops at the time).
Swindon's most successful band
Most Swindon people are probably unaware of the international reputation of the town's most successful pop group.

XTC made a name for themselves with a their own brand of 'new wave' music, played against the punk 'revolution' of the late 1970s.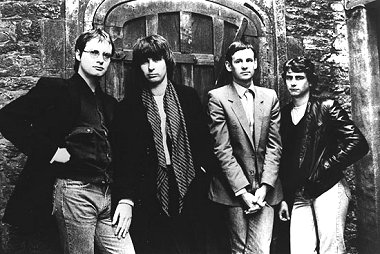 (l to r) Andy Partridge (vocals and guitar),
Colin Moulding (bass), Dave Gregory (guitar)
and Terry Chambers (drums)
They briefly enjoyed national stardom as first Making Plans For Nigel and then Senses Working Overtime even earned them a place on Top of the Pops.

But while the majority of the other bands from the era have slipped into obscurity, XTC retain a large following worldwide - and especially in America - and are renowned both for their inventive music and their determination to follow their artistic rather than their commercial instincts.
Single: Majors and Generals 1982
featuring Richard Branson
Following a period when they effectively took strike action to free themselves from a contract with Richard Branson's Virgin Records, XTC's returned briefly to the music scene in 1998 with their album, Apple Venus Volume 1, and their last album to date, Wasp Star (Apple Venus Volume 2), released in 2001.
Their fans will wait in vain to see the group in concert, though, as a serious attack of stagefright some years ago convinced group leader Andy Partridge that it was time to turn his back on touring.

Partridge was born on the island of Malta on 11 November 1953 where his father, a sailor, was stationed.
The family eventually returned to Swindon and lived at Penhill where Andy, inspired by The Beatles' A Hard Day's Night and The Monkees, set up Radio Anglo, 'broadcasting' records out of his bedroom window.

He slowly turned to making his own music, but with little success and it was while playing with a group called Clark Kent, at Headlands School, that Partridge first met Colin Moulding, who was also from Penhill.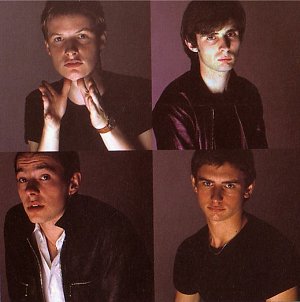 XTC in 1978, just after signing for
Virgin Records (bottom left is Barry Andrews,
who left the band in 1979 to be replaced
Bass player Moulding was born in the front room of his grandmother's house at 2 Hinton Street, Gorse Hill on 17 August 1955, just over a month after Terry Chambers was born at the Cheriton Nursing Home in Westlecott Road.
Chambers, a promising footballer until he had an unsuccessful trial with Swindon Town, was to become XTC's drummer.

Partridge, Moulding and Chambers were eventually brought together - along with Andy's friend, Dave Cartner - in the spring of 1973 when they called themselves Star Park.
They played their first gig at Swindon College as support to Thin Lizzy and shortly afterwards changed their name to The Helium Kidz. They also recruited a new vocalist called Steve Hutchins.

The Helium Kidz had to wait two years for any nationwide exposure and it came in the form of a small feature in the New Musical Express, but it didn't change their luck and in the summer of 1975 they opted for a change of name instead.
The inspiration was a Jimmy Durante film, of all things, in which the New York comic was searching for a lost chord. Having found it he cried: "Dat's it. I'm in XTC."
It struck a chord with Partridge too, who thought it epitomised their incisive, witty style. Partridge also became the band's lead vocalist at this time, replacing Steve Hutchins.

Success was still a long way off for XTC and they had to wait for punk, which exploded at the end of 1976, before they got the boost they wanted.

XTC never were a punk band, but they were outrageous enough to suit the mood. The only problem was a sudden lack of a keyboard player - recent recruit Jon Perkins having left to join another band. Andy then spotted a notice in John Holmes' organ shop in Faringdon Road, saying simply: "Keyboard player seeks band".
And so it was that Barry Andrews joined the band.

Born in London, Andrews had moved to Park North at the age of seven and was a high achiever at school. But he had played in several rock bands before XTC was to provide him with a first taste of success.

By January 1977 it was clear to the band that they were on the verge of something big. Bouyed up by the new wave movement that had suddenly boosted their reputation, they were even confident enough to turn down a recording contract with CBS, holding out, instead, to sign with Virgin in August 1977.

In many ways their first record epitomised the XTC story over the next 20 years. The 3D EP (featuring Science Friction) was acclaimed by the critics and loved by XTC's now large following in Britain, but it failed to make an impression on the chart.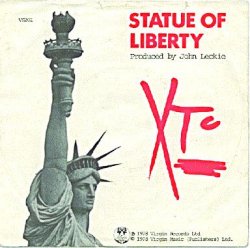 XTC second-ever single Statue of
Liberty was banned by the BBC for
the line "And in my fantasy I sail
Next came Statue of Liberty, a song banned by the BBC because it contained the line "And in my fantasy I sail beneath your skirt."
That flopped too, but their debut album, White Music, did make the top 40 and the follow-up, called Go 2, got to number 21.

It was now 1979 and XTC looked set for bigger things, despite the loss of Barry Andrews whose departure was mostly due to a personality clash with Partridge.
Another Swindonian, Dave Gregory (born on 21 September, 1952 at the same nursing home in Westlecott Road where Terry Chambers had been born) restored the group to a foursome.

A new single, Life Begins at the Hop, secured a single week in the single charts (at number 54) and even a spot on Top of the Pops, but most of all it signalled a change from the brash, loud, XTC of before.
They were now leaning towards pop and were much more accessible - a fact proved beyond doubt by the next single.

Making Plans For Nigel was written by Colin Moulding and looked set to provide the group with a top ten hit, but it peaked at number 17.
The new album, Drums and Wires, was also a success, but a follow-up single, Wait Till Your Boat Goes Down, was too far removed from the mainstream of pop and it flopped badly.

XTC still had commercial pop songs up their sleeves and the album Black Sea was well received. But the best was still to come as the band reached their commerical peak at the start of 1982.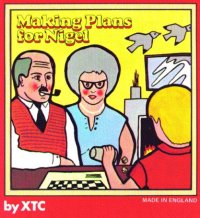 Making Plans For Nigel, XTC's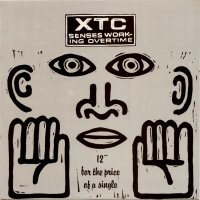 their biggest selling single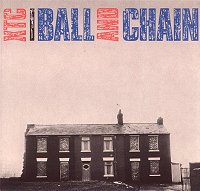 Not forgetting their roots:
the famous cover from Ball &
Chain featuring a threatened
house in Westlecott Place,
where the occupants refused
to move out despite every
The single Senses Working Overtime made it to number 10 while the new album, English Settlement, got to number five and enjoyed worldwide success.
Much more importantly, it was an artistic watershed for XTC, as Partridge realised, even before it was released.

"Until English Settlement," he said, "I'd felt like a child in a sweet shop wanting to try a bit of everything, but only being allowed to choose licorice allsorts. I'd broken free."

In fact, the opposite was true.
Partridge suffered a breakdown, was unable to tour and far from cashing in on the success of English Settlement, Partridge became a recluse and XTC ran into debt. They were rescued from disaster by a renegotiated contract with Virgin which tied them to a further six albums.

But there were still problems.
Drummer Terry Chambers left the band and emigrated to Australia and the remaining threesome failed to sustain the impetous of Black Sea and English Settlement.

The albums Mummer and The Big Express both floundered despite a measure of support from the critics.

Yet there was no stemming the creative output of the band, nor their tongue-in-cheek alter ego. As The Dukes of Stratosphear they were to produce two albums which brilliantly parodied the psychedelic Sixties.

The next album, though, showed that it was impossible to predict how XTC's output would be received.
Skylarking, considered by many fans to be a good example of the raw originality of the band, flopped in Britain yet sold a quarter of a million in the United States.
Meanwhile, Dear God, relegated to a B-side on this side of the Atlantic, became a cult hit in America despite controversial anti-Christianity lyrics which ruffled a few feathers.

The Americans also liked the next album, Oranges and Lemons - which British fans clearly did not - and they even looked set for a major breakthrough following some high-profile TV appearances.
In King for a Day - which was written by Moulding - they had the single that many thought capable of doing it, but with Partridge still refusing to play live, the moment was gone. It was 1989 and it would be three more years before XTC produced a new album.

Nonsuch, again well received in certain quarters, not surprisingly failed to deliver the commercial success that had always eluded the band.
And it looked increasingly likely that Nonsuch would be their swansong as XTC effectively withdrew their labour for seven long years in an ultimately successful bid to finally free themselves from a contract with Virgin who for years had appeared at odds with what Partridge was trying to achieve for the band.

After severing their links with Virgin they eventually released an album under the Cooking Vinyl label. A track from the album, I'd Like That, was also been released as a single.
But despite the lack of new work, the intervening years have not been short of incident for XTC.
A succession of illnesses, divorce and financial problems have dogged Partridge. And when XTC finally got back into the studio an argument over recording fees almost scuppered things again.
The departure of long-time guitarist Dave Gregory just as things seemed to be settling down, leaving XTC as effectively a duet rather than a group.
On 22 February 1999, the partnership of Partridge and Moulding released Apple Venus Volume 1.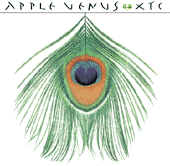 An album with an acoustic-orchestral sound, which was well received by critics and by XTC's still huge following of dedicated fans worldwide.
Their last album to date being a follow up in 2001 - the Wasp Star (Apple Venus Volume 2).
As far as Swindon is concerned, Andy Partridge and Colin Moulding still live close by, even though Partridge, at least, has enjoyed a love-hate relationship with the town.
The XTC frontman, whose daughter is now forging a career in music, remaining largely unnoticed by the people here except for the few who recognise him, most notably for his round glasses and 'unusual' headgear.
In truth, though, Swindon ought to be proud of them - and certainly prouder than they appear.
During their music-making days, they made hundreds of references to everyday life in Swindon in their work and they have repeatedly harked back to their roots in one way or another.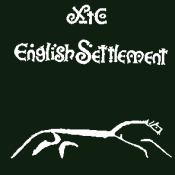 The front cover of English Settlement features the unmistakable outline of the white horse at Uffington, on The Big Express the band are seen on the footplate of a Swindon-built locomotive.
But in the view of the style of music and Partridge's much-publicised anxiety attacks, it is very unlikely that XTC will ever play live again.
Chris Twomey, author of the band's "definitive biography", called XTC: Chalkhills and Children, summed it all up rather well.
He wrote: "After 15 years of making records, XTC remain an enigma: they don't tour, they have few hits, they refuse to conform to the rudiments of the music industry, yet perversely that industry still recognises them as a rare and precious commodity.

They invoke a respect - in some a passion - that would dwarf many artists selling ten times the volume of records."
(Numbers shown are the highest chart placings)

44 Life Begins At The Hop [1979]
17 Making Plans For Nigel [1979]
32 Generals And Majors / Don't Lose Your Temper [1980]
31 Towers Of London [1980]
16 Sgt Rock (Is Going To Help Me) [1981]
10 Senses Working Overtime [1982]
58 Ball And Chain [1982]
50 Love On A Farmboy's Wages [1983]
55 All You Pretty Girls [1984]
46 Mayor Of Simpleton [1989]
33 The Disappointed [1992]
71 The Ballad Of Peter Pumpkinhead [1992]
Best Of Swindon 2013
Jahmene Douglas headlined an Oasis concert that didn't disappoint, writes Mallory Nicholson - REVIEW + GALLERY

27 May 2013

40 Years Of Magic!
Swindon's world famous roundabout is 40 years old this month - TELL US YOUR MEMORIES

12 September 2012

Ashes to Ashes
Swindon's connection to the time-warp cop show...

28 March 2008

Justin Hayward
Happy 70th birthday to Swindon's rock God and Moody Blues legend...