Don Rogers
We interview a Town legend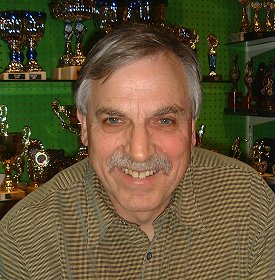 Don Rogers:
we interview a legend
There aren't many personalities in Swindon who can genuinely be described as a 'legend' - but Don Rogers isn't just any personality.

For Swindon Town football fans he is 'the legend'; the finest player ever to 'don' (please excuse the pun) the Red shirt of Swindon and the hero of the club's greatest achievement - defeating the mighty Arsenal 3-1 to win the 1969 League Cup Final at Wembley.

Those who were there on that fateful March day will never forget it. It truly was a day to remember in the Town's history and when this website went live way back in 1997 it was one of the first events we chronicled in out heritage section.

To complete the story, we caught up with Don at the sports shop he has owned and run in Faringdon Road for over 30 years to ask him a few questions about the famous Wembley win, his memories of the day, the goals, the post-match celebrations and to get an insite into his career in football.

Questions included:
Who was the best player he ever played with - and against?
Did any big clubs approach him after the Cup final?
What did the Town manager, Danny Williams, say to the players before extra-time?
Did he regret not leaving Swindon earlier and maybe playing for England?
And, amongst others, his tips for any youngsters aspiring to becoming a professional player.

We hope you enjoy it.