Date added: 09 October 2007
Jamie Cox
Swindon's gold medal-winning boxing hero
Jamie Cox became an instant star the day he struck gold at the Commonwealth Games in 2006.
The 19-year-old fighter from the Walcot Amateur Boxing Club was declared the winner of the final of the Light Welterweight [64kg] Division after his opponent, Moses Kopo, from Lesotho, unexpectedly pulled out in the final.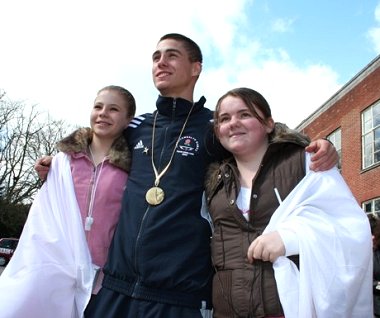 Jamie Cox
Boxing commentators even hinting that it may have been the ferocious nature in which Cox had dispatched his previous opponents on his way to the final that psyched the 27-year-old African out of taking part.
Comments which, in a nutshell, sum up why Cox is now regarded as one of the brightest emerging talents in world boxing.
A lethal combination of a never-say-die attitude together with fearless punching the reason why boxing promoter and empresario Frank Warren decribed Cox as "the real deal" when he signed him to his professional boxing stable a year after his Commonwealth triumph.
"Jamie has 'world champion' stamped all over him," echoing Richie Woodhall, who went on to train Cox.
"He was a phenomenal amateur and I believe that in a few years time he will a force to be reckoned with on the world scene."

In the world of hard knocks (quite literally) we wish Jamie the very best of luck.
Cox Shows What He's Made Of
Swindon-boxer denied world title by George Groves in epic four rounds at Wembley - WATCH VIDEO

15 October 2017

Jamie Takes His Chance
World Title fight now beckons after Cox blasts his way to WBO European title - INTERVIEW

24 July 2015

George Groves in Swindon
World Title Contender packs a punch at The Sun in aid of Sebastian Murtough - PHOTOS + SWTV INTERVIEW

01 March 2014

Ready To Rumble!
Cox & Royer come face-to-face ahead of this weekend's big Oasis clash...

14 June 2013

Cox Comeback
Swindon boxer ready for ring return at Oasis on 15 JUNE - SWTV INTERVIEW + PRESS CONFERENCE

12 April 2013

Ant & Dec-ked!
TV stars and former world-champs enjoy white collar boxing at MECA - SEE GALLERY

03 May 2012

Bam Bam v The Menace
Swindon grudge fight tops the bill at white collar boxing at MECA - WIN VIP TICKETS

Festive Knockout!
Boxing day comes early at MECA Swindon - REPORT & GALLERY...

17 December 2011

Knock-out success
White Collar Boxing evening raises money for charity...

19 October 2009

Fancy some?
We grab a word with boxing legend Nigel Benn in Swindon on fights - and faith.... watch interview...

Ready to rumble
We interview Jamie Cox and Marlon Reid before tomorrow's fight at the Oasis...

Cox on target
Swindon boxing star tells SwindonWeb he's ready to step up after easy win...