Date added: 14 February 2014
Rooting For Rudman!
UPDATE:

14 February 2014 4.52pm
No medal this time for Swindon-born Shelley at the Winter Olympics
Shelley Rudman left herself just too much to do in the final heats of the Women's Skeleton at this year's Winter Olympics.
Lying 11th overnight in Sochi, the former New College student failed to add to her 2006 Silver medal despite clocking her two best runs of the competition to eventually finish 16th.
But Shelley was still smiling at the finish, however, as she congratulated GB teammate Lizzie Yarnold from Bath, who won Gold!
But can Swindon's ice-cool Olympic hero win a second medal today? Come on Shelley!
We'll definitely be cheering on Shelley Rudman at 3.30pm today, as the Swindon-born Skeleton star bids for a second Olympic medal.
Rudman, who won silver at Cesana in 2006 and is the current world champion, is lying 11th after the first two heats in the Women's Bobsleigh Skeleton, with a best time of 59.33 secs.
Fellow Brit Lizzie Yarnold, 25, is in Gold Medal position after clocking 58.43.
The final heats are live on BBC2 at 3.30pm on 14 February 2014.
Swindon's Winter Olympic hero
Silver medal in 2006 & current world champion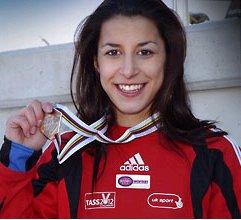 silver to the European silver she
won earlier this y
ear (pic. above)
Pride of Swindon Shelley Rudman become a national treasure on 16 February 2006, when she won Great Britain's first medal at the Turin Winter Olympics.

It was downhill all the way as the 24 year-old former New College student (their fourth Olympian to date) charged her way to a Silver Medal today in the Skeleton Bobsleigh event, putting in a sensational second slide to claim her place on the podium in Cesana.

Clocking in an overall time of 2 minutes, 1.49 seconds, the Devizes school teacher was just 1.23 seconds behind Swiss Champion Maya Pederson.

Managing to keep as cool in the head as it was on the track, Shelley clearly abided by Britain's Performance Director, Simon Timson's last-minute advice, "Slide the track, not the occasion."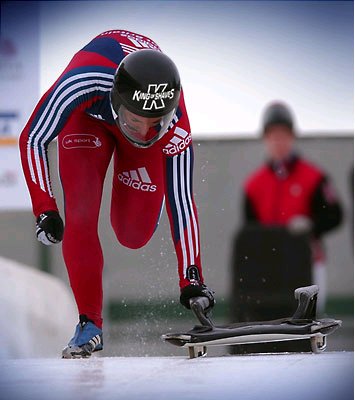 Shelley was lying fourth before
her superb second run lifted her into second place in 2006

"I can't believe I've got a medal," exclaimed Shelley to the waiting press, "this is crazy!"

"I'm always better on my second run and I felt really focused. It really is a dream come true!"

It may have been a white-knuckle ride for Shelley, roaring down the slopes at speeds of 90mph, but it was nothing compared with what her local supporters in Pewsey have been through.
The village residents have felt every frantic turn, standing by their girl from the day she took up the sport just four years ago on a have-a-go week in Lillehammer, Norway.

Showing great pride in their local athlete, the villagers not only formed a supporters' club to help Shelley qualify for the Games, but they even helped raise enough for her to purchase a £3,000 sled.

It may have all been over in just two minutes for Shelley, but locals at the Moonrakers Inn - known as the Rudman Regulars! - will doubtless be celebrating long through the night tonight, as they raise a glass or ten to their very own Olympic icon.
Not only did Shelley go into the Games an outsider (she said herself she'd be happy to finish in the top 8), but her tale is all the more phenomenal given how late she got into the sport.
In fact, as a junior Shelley reached an extremely high standard at 400m hurdles and had it not been for a fateful trip to Norway, we might now be talking about her medal hopes in the Commonwealth Games.

But Shelley's speed off the blocks, combined with her natural talent, dexterity and nerves of steel, have given her what it takes to take on the world.

Shelley's rise to stardom, culminating in today's sensational Silver Medal, is one of the most phenomenal of any athlete reaching the pinnacle of sporting excellence.

It's certainly the stuff that dreams are made of, and in a few years down the line she could be the subject of a 'Cool Runnings' style blockbuster.

But as sure as you'll never get anyone from SwindonWeb on a skeleton track, Shelley will never forget her roots.