Fred Ferris - Swindon's last Town Crier
Fred Ferris, Swindon Town Crier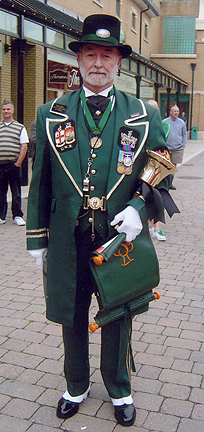 Fred Ferris, Town Crier
1931-2013
Fred Ferris, Swindonís last Official Town Crier, was a Swindon man through and through.

Born in 1931, in Swindon, of course, he started working for the Bristol Tramway & Carriage Company (now Swindon Stagecoach) nearly 50 years ago and finished his service as a bus inspector prior to his retirement in 1997.

Since then he performed the proud role of Swindonís very first Town Crier, dressed in the traditional costume of a GWR Station Master to reflect Swindon's proud railway heritage at local council events, corporate occasions and village fÍtes.

He even won the 'Best Dressed Town Crier' Award, presented by the Town Criers' Association in 2002 and 2005 to go with 12 other national awards.
He also received the prestigious badge of honour of the Loyal Company of Town Criers.

Fred sadly died in November 2013 aged 82, with hundreds turning out for his funeral.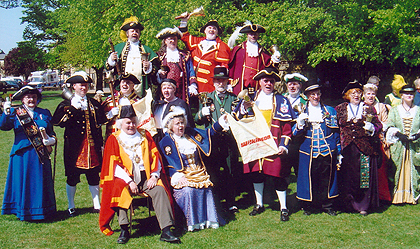 Fred Ferris, Swindon's Town Crier, seen here with other Town
Criers from around the UK