Local inn and dining in Chiseldon, Wiltshire
The Patriots Arms, in the heart of Chiseldon, just a few minutes from J15 of the M4, offers everything you would expect from a country pub.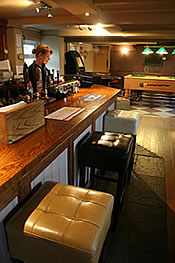 - Open fireplace
- Real ales and good quality wines
- Lunch, dinner menu and daily specials, served Friday to Sunday
- Dinner served 6-9pm Monday to Saturday
- Sunday roast 12-5pm
- Pub garden
- Freshly-made coffee
- Newspapers & magazines
- Games area with pool and darts
- Accommodation
- WiFi
- Child friendly with big play ship and rabbit corner
- Well behaved dogs on a leach are welcome to parts of the pub and in the front garden

.... and we're also dog friendly!
Good Food
The menu is changed regularly and we ensure that only the best produce is incorporated into a menu that is prepared with care to provide a consistently high standard.
Our regular menu contains several vegetarian choices complemented by frequently changing meat and fish dishes which are listed on the blackboard.
Special diets can always be catered for with prior notice. Remember to let us know when you book if you have any allergies or if you are vegan etc.
Give us any excuse to put the Barbie on!
Sunday Lunch
We serve food all day on a Sunday and you can have a roast dinner from noon until 5pm. We serve a minimum of 3 different roasts plus fish and minimum one vegetarian choice.
We may also have an exotic or game meat for you to try!
Monster Party - 29th of October
Dress your worst and have some fun!!! It is our 3 year anniversary and all in fancy dress have reduced price on drinks.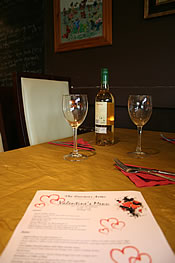 Regular Weekly Events
Monday: QUIZ NIGHT. Starts at 8.30pm and welcome teams of 4 or less. Welcome to an informal and fun evening. Complimentary light snacks are served during the quiz.
Tuesday: POKER NIGHT. Starts at 7.30pm.
Wednesday: CURRY NIGHT. £7.90 each or 2 meals for £10! (eat in only).
Thursday: JAM NIGHT from 9pm. First Thursday of the month is acoustic night.
Friday Lunch Time Special: Our Friday Luncheon Club meet at 1.30pm for a main meal (meat or vegetarian) and dessert (£6). Contact Lena if you are interested in joining. Meals need to be pre-booked.
Sunday: POKER NIGHT. Starts at 7pm
Christmas is around the corner!
We now take bookings for our Christmas menu.
The Chrismas menu is served from Friday 23rd Nov throughout December with the exception of Christmas day, Boxing day, New Years Eve and all of January as long as it is booked before Christmas.
Functions and gatherings
If you have an occasion to celebrate, we cater for private parties, weddings and birthdays, with what we think is the best buffet service in the area.
We also cater for funerals.
Accommodation
We have 2 en-suite rooms for overnight accommodation; we also offers good deals for longer stays.
Website & Contact
Website: Click Here or E-mail