Welcome to Revolution Vodka Bar, Swindon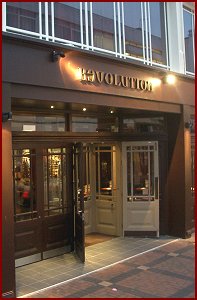 Whatever you fancy there is something for everyone here.
Our combination of classic european and new world style means we're the perfect mixer, the bang to the wallbanger, the drive to the screwdriver - the alcoholic kick.
Choose from our selection of premium imported vodkas - all hand picked by the vodka princess herself - the finest quality wines, beers and spirits - all until 2am on Fridays & Saturdays.
And should you get the munchies late at night our evening menu is suited to late night dining and offers a wide range of mouth watering dishes.
For lounging, eating or just dancing
- Revolution has it all.
---
Revolution Bar, Bridge Street, Swindon SN1 1BL
Tel. 01793 539931