Wedding Style Tips
Look and feel great on your big day!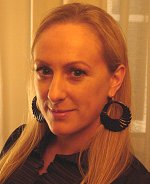 It's supposed to be the best day of your life - but with so much to plan, your body can really start to feel the strain in the run-up to your wedding day.
But fear not!
For help is at hand - courtesy of SwindonWeb's beauty expert Vanda Tanner, co-owner of beauty salon OMG on Faringdon Road.
Follow Vanda's simple steps, and you are guaranteed to feel perfect on your big day!...
• Always have a hair trial. If you're happy with your hair, you'll feel really confident on the big day.
• Take a picture of your dress along with you for your hair and makeup trial. The style can help develop your hair and makeup style.
• Don't be afraid to ask your hairdresser or makeup artist how many previous clients they have worked with and if they have a portfolio you can see.
• Always carry spare hair grips and ask one of your bridesmaids to watch your hair all day - and look out for stray hairs!
• Wedding makeup needs to be photographic makeup. If you follow your normal daily routine, the daylight and flash photography for your wedding can make you look washed out!
• Makeup applied professionally will give you a far superior finish, flawless and will last longer. Also a makeup artist will have specific products to help with breakouts, blemishes, dark circles etc.
• Always buy a lipstick to carry around with you on the day (or get your mum or bridesmaid to keep it for you). You can re-apply between photos and throughout the day.
• Have your nails done the day before the wedding. There will be too much going on in the morning of your wedding - and having them done just one day before will mean that they are still pristine and perfect on the day.
• Choose your colour carefully - make sure your nails are in keeping with your dress and flowers.
• A classic manicure will compliment a clasic
• If you're toes are on show, make sure they match your fingernails.
• Dont significantly change your facial routine up to a fortnight before your wedding.
• Have a really good quality facial or two, 6 and 4 weeks before your wedding.
• Take advice from a fully qualified therapist before you do anything different.
• If you are not entirely happy with your skin, you need to start a facial programme ideally 3 or 4 months before your wedding.
• Always have a trial fake tan. You can gauge how dark you go and when you should have your final session before your wedding.
• If you have a dress fitting after having your tan, take large sheets of tissue paper or cling film to wrap yourself in. This will protect your dress (and keep your dress fitter happy!)
Don't forget the Groom!...
• A bride can spend a lot of time organising herself, but your man's unruly eyebrows, bitten nails or dull skin can get overlooked. Book them in for a nail shape, eyebrow shape and a facial - and don't forget to get him a good haircut too!
• If you know anyone else that is getting married around the same time of year as you, then join forces. You may be able to get discounts on flowers and cakes if you make a double order.
• Share the cost of expensive wedding magazines by buying a couple each and then swapping over.
• If you are particularly nervous, put some drops of lavender on your pillow in the week running up to your wedding or take a few Bach Rescue Remedy drops the night before your wedding.
• Do something nice with your groom in the run up to the wedding. It can get quite stressful, so book in and have a massage each. Make an afternoon of it - relax and have some peace!
No doubt you're still floating on cloud nine after your glamourous day - and the good news is, it doesn't have to end just yet.
Maintain your stunning new look with the help of OMG at their Faringdon Road salon...
Call
01793 433433
to book yourself in for an appointment, or check out their website via the link below to see exactly what's on offer!
Top tips for hair and beauty
It's no good wearing the latest fashion items if you're not sporting an up-to-date hairstyle and looking your best...