Eating Out Guide
The SwindonWeb guide to eating out and restaurants in Swindon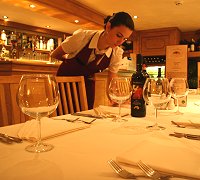 Fratello's Italian Restaurant:
So what will it be?
An Italian restaurant in Swindon? Chinese, perhaps? A quick bite at lunch-time? Sunday lunch in Swindon? A la Carte? Or somewhere
really
special for a family celebration?
If it's in and around Swindon you're looking, then our restaurant guide provides links to all the best places around town.
Bon Appetite from SwindonWeb.
Enjoy the best in eating out in Swindon with us!
New competitions coming soon!
Eating Out - WHAT'S NEW
Our regular look at what's fresh on the menu in Swindon - offers, new places, reviews, events and more...

Curtain Raiser
Full house! Regent Circus development now complete with the opening of new six screen cinema - SEE PICS

06 February 2015

Nando's Spreads Its Wings!
Hot stuff - at last! The one we've all been waiting for.... Nando's is now open in Swindon town centre - SEE PICS

03 February 2015

Even More On The Menu!
GBK, Ask and Coal Grill now open at Regent Circus - Nando's opening this week!

02 February 2015

Toby Or Not Toby...
EATING OUT: Our mum about town checks out the self-proclaimed 'home of the roast' in Swindon - REVIEW