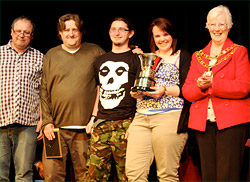 Left to right: Whole Hog's Steve Sprosson,
Matt Clift, Dom Bray and Becky Cann with
Swindon's Mayor, Cllr Ray Ballman

Photograph courtesy of Smile Photographers


Going the Whole Hog – one better!

Whole Hog Productions were HJ'12 winners at the Swindon Arts Centre in April 2012. Their play, 'The Final Act of Henry Gladstone', adapted by Matthew Clift, gives the Swindon based company a step up from their runners up position at HJ'11!
Pin-drop moments
The play is an adaptation of Chekhov's 'Swan Song'; a powerful two hander with a young stage manager encountering an aging actor. It's a compelling story, and performance. It kept the HJ'12 audience spellbound.
"It was a very carefully crafted piece of work", according to HJ'12 Adjudicator, Robert Meadows, GoDA. He called it a 'rich and convincing piece of theatre with many pin-drop moments".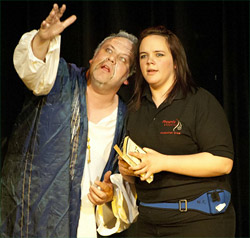 Whole Hog's Steve Sprosson and
Becky Cann on stage at HJ'12

Photograph courtesy of Smile Photographers


This performance also earned its writer, Matthew Clift, the title of winner of the Peter English Trophy for Best Direction, and a nomination for Becky Cann as Best Actress.
Runners-Up
The Clarendon Players' 'Interior Designs' by Jimmy Chin took the Charles Grace Cup at HJ'12. This four hander told the story of the one man who cuts a consistent path through the lives of three very different women. Robert Meadows summed it up as the work of, "a confident team, who'd consciously approached and crafted the play in a way that was always engaging, always involving and always intriguing too."
The play brought individual awards too; Philip Cook won the Best Supporting Actor award, with Fiona Jacobs taking the award for Best Actress. Jeremy Goode was also nominated for Best Direction.
Youths say, "Don't do us any favours"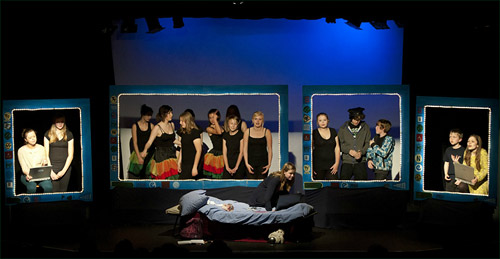 PVADS Youth actors bring the internet to life on the Arts Centre stage

Photograph courtesy of Smile Photographers

The Adjudicator, Robert Meadows told the HJ'12 audiences how impressed he was by the attitude displayed by Pewsey Vale Amateur Dramatic Society Youth Section. Being the only company to enter young actors, the selection of a winner for the The Brenda Lilley Loving Cup for the Best Performance by a Youth Group might seem to have been a very unsatisfying one horse race. However, the youngsters told Robert to decide on a minimum score to win the trophy. If they didn't make the grade, they wouldn't win the award. Robert was delighted to say that PVADS Youth's performance and interpretation of 'A Modern Twist' by Nettie Powell, did indeed beat his expectations!
HJ'12: Another Winner
Festival Director Ashley Heath said, "It's been another year of hard work to put on the One-Act and, yet again, we've been rewarded by a very high standard of endeavour from our entering teams. To see the diversity of material, determination to succeed, and dedication to the art, all manifested on the Swindon stage is really satisfying. Our challenge now, in the face of increasing costs at our venue, is to ensure that we keep this festival alive so that it can continue to foster great theatre in our communities."
Full Results
Please see 2012 Results.