The Father of Cultural Life in Swindon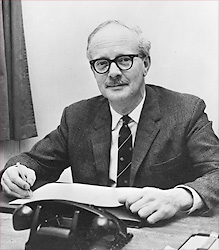 Harold Jolliffe, Swindon Borough
Librarian, 1946-69

Photograph courtesy of Simon Jolliffe


Many people wonder why this Festival is dedicated to a man called Harold Jolliffe. In short, without him, Swindon would be a much poorer place to live had he not been here, and we have him to thank for our Arts Centre.

"The Father of Cultural Life in Swindon"? This is no sentiment-driven comment about a former public servant. It's a statement hard to argue with; in much the same way it's hard to dispute that Brunel sired the town's industrial success.

Harold Jolliffe was the Chief Librarian and Curator of Swindon Borough Council for 23 years. He died on Wednesday, 8 January 1969 at the age of 54.

It's a testament to his integrity that his last day of work was also his last day of life.

A native of Bury in Lancashire, he was appointed Chief Librarian for Swindon in 1946.

In November of that same year, he oversaw the opening of the country's first dedicated municipal Arts Centre, here in Swindon.

That building wasn't in the current site on Devizes Road, instead it was in the town centre, in a church hall leased for ten years. The growing commercial value of that site, and the Council's inability to match those prices meant that by 1955 a change was inevitable.

The Council already owned the lease on the Bradford Hall in the Old Town, a dance venue of declining popularity. In that same year, the decision was taken to stop dances and have the Arts Centre move in.

In September 1956, the Arts Centre opened on the site of the Bradford Hall, and is still its location today.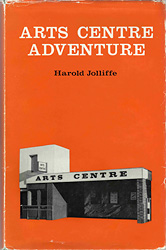 Arts Centre Adventure
by Harold Jolliffe


There is a book, available at the Swindon Reference Library, called 'Arts Centre Adventure'. It's written by Harold Jolliffe and provides a fascinating insight into the hard work involved in providing Swindon with not only an Arts Centre, but also a growing public library service, museum and countless other undertakings.

Published in 1968, just a year before his death, Mr Jolliffe sums up his life and work in the town...

"The experience is one which I would not have missed, for there is infinite satisfaction in being present at the birth of such a project as the Swindon Arts Centre, in seeing it grow to maturity, and in being so very confident of its future.

"Inevitably, one asks oneself – has it been worthwhile? A final answer could probably not yet be given, and may not indeed be given for another twenty-one years or so, but if an opinion may be ventured then one must say that Swindon is surely a richer place because of its Arts Centre and the wealth of activity which has taken place within its walls."

Back in 1946, when Harold Jolliffe interviewed for the post, he was told by the panel that they didn't want a "conventional librarian".

Thankfully for them, and for Swindon, Harold Jolliffe was certainly not that.