Eating Out Guide
The SwindonWeb guide to eating out and restaurants in Swindon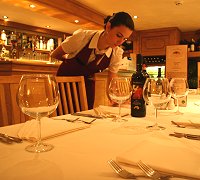 Fratello's Italian Restaurant:
So what will it be?
An Italian restaurant in Swindon? Chinese, perhaps? A quick bite at lunch-time? Sunday lunch in Swindon? A la Carte? Or somewhere
really
special for a family celebration?
If it's in and around Swindon you're looking, then our restaurant guide provides links to all the best places around town.
Bon Appetite from SwindonWeb.
Enjoy the best in eating out in Swindon on us!
| | |
| --- | --- |
| | Rafu's Indian Restaurant launches a new range of set menus - WIN A MEAL FOR 4 |
| | |
| --- | --- |
| | Fish & new Table d'hote offer are well and truly on the menu in Old Town |
Eating Out - WHAT'S NEW
Yum! Yum! Our regular look at what's fresh on the menu in Swindon - offers, new places, reviews, events and more...