Eating Out Guide
The SwindonWeb guide to eating out and restaurants in Swindon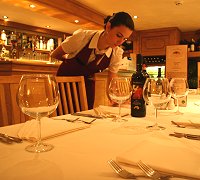 Fratello's Italian Restaurant:
So what will it be?
An Italian restaurant in Swindon? Chinese, perhaps? A quick bite at lunch-time? Sunday lunch in Swindon? A la Carte? Or somewhere
really
special for a family celebration?
If it's in and around Swindon you're looking, then our restaurant guide provides links to all the best places around town.
Eating Out - WHAT'S NEW
Our regular look at what's fresh on the menu in Swindon - offers, new places, reviews, events and more...

Curtain Raiser
Full house! Regent Circus development now complete with the opening of new six screen cinema - SEE PICS

06 February 2015

Nando's Spreads Its Wings!
Hot stuff - at last! The one we've all been waiting for.... Nando's is now open in Swindon town centre - SEE PICS

03 February 2015

Even More On The Menu!
GBK, Ask and Coal Grill now open at Regent Circus - Nando's opening this week!

02 February 2015

Toby Or Not Toby...
EATING OUT: Our mum about town checks out the self-proclaimed 'home of the roast' in Swindon - REVIEW