Eating Out Guide
The SwindonWeb guide to eating out and restaurants in Swindon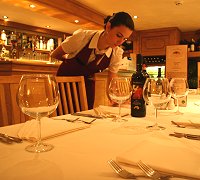 Fratello's Italian Restaurant:
So what will it be?
An Italian restaurant in Swindon? Chinese, perhaps? A quick bite at lunch-time? Sunday lunch in Swindon? A la Carte? Or somewhere
really
special for a family celebration?
If it's in and around Swindon you're looking, then our restaurant guide provides links to all the best places around town.
Bon Appetite from SwindonWeb.
Enjoy the best in eating out in Swindon with us!
FROM FIELD TO PLATE


You often hear the term 'ingredients found on the door step' and one chef in Fairford is taking it really quite literally! - WIN A MEAL FOR 2
EXOTIC SAUSAGE NIGHT


The Angel Hotel in Royal Wootton Bassett hosts a sausage spectacular with 10 tasty bangers to try - 30 JANUARY - WIN A TABLE FOR 2
| | |
| --- | --- |
| | Great Scot! It's time again for haggis, neeps and tatties! Where to celebrate Robert Burns' birthday in Swindon... |



Special offers are exclusive to mySwindonWeb users. You will be required to login or register to see the offer details. Registration is free.

Toby Or Not Toby...
EATING OUT: Our mum about town checks out the self-proclaimed 'home of the roast' in Swindon - REVIEW

Eating Out - WHAT'S NEW
And this month it's EXTREME! Our regular look at what's fresh on the menu in Swindon - offers, new places, reviews, events and more...