Eating Out - WHAT'S NEW
Our regular, rolling round-up of what's fresh on the menu in Swindon
Special theme nights, new restaurants, chefs winning awards - and especially special offers. You'll find it here in our regular, rolling round-up of what's new on the eating out front in Swindon.
Follow us on Twitter and Facebook and definitely sign up to
myswindonweb
for the latest up-to-date info and offers.
Well, it definitely feels like the changing of the seasons after what was a pretty good Swindon summer. Wasn't it perfect for al fresco dining and barbecues? Now that's real eating out.
Now, of course, foody thoughts turn to Autumn and perhaps something more wholesome and comforting - and, with two and a bit months still to go, Christmas!
Rest assured, we're up-to-date on both counts, with a quick summary here of what's new on the restaurant & menu side here, plus a full guide to festive food and the places to party. It does pay to book early you know!
So let's start with where's new to eat in Swindon, because it ain't time for turkey yet!....
Nothing too exciting, apart from!....
Signs of progress at The Highworth Hotel & restaurant & a very big name opening up just down the road.
This guide may be for Swindon but when Rick Stein decides to put his name to a new fish restaurant in Marlborough 7 miles up the A361, it has to be worth a mention.

Rick, Jill and the family are delighted and proud to announce that Rick Stein at Lloran House on the High Street in Marlborough will officially open on Saturday 8th October.

Guests will be able to enjoy some of Rick's most iconic dishes such as the Dover Sole a la Meunière and Turbot Hollandaise as well as a selection of new dishes including Salt Pork Belly with split pea puree and sauerkraut, and Baked Guinea Fowl with garlic beans and smoked sausage.
Sounds and looks impressive!
And good news indeed, after one of our favourites in Marlborough, Coles, decided to shut after years of serving very good food. The chef is setting up again locally, though, we hear.
Back in Swindon, you guessed it!....
Which means 'three legs' by the way, not sure why, but this Italian restaurant & pizzeria is now open in Gorse Hill, not far from what was Majestic Wine. Certainly looks nice enough inside.
We make that

twelve independent Italian restaurants in Swindon

to choose from.... (not including the new boys like Ask or Bottelinos etc.) with Marios being the first to bring us the full Trattoria experience of spaghetti bolognese, vino in baskets and waiters with unfeasibly large pepper grinders back in the 60s.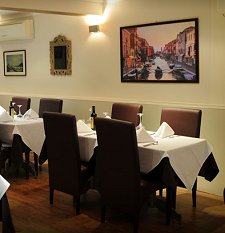 And haven't we loved it since!
And haven't we loved it since!
The full list of independent Italians currently in Swindon being - in no particular order of greatness (feel free to tell us your favourite, though, via Facebook below)
Not to mention Carluccio's
Now open at Swindon Designer Outlet
One of those places we've only experienced as a treat at Heathrow Airport, but now serving

breakfast, lunch and dinner and a broad range of classic Italian food here in Swindon. C
an't wait to try it out.
The Outlet really is a proper destination for eating out with Wagamamas, Pizza Express, Giraffe & Ed's Easy Diner all on site.
And another two Indian restaurants...
One in Old Town -
Mantra
, which has opened next to Connies in Devizes Road, in the premises which was formerly Spicey Aroma.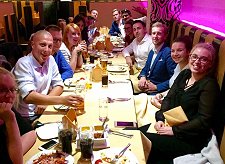 Last time we mentioned Spicey Aroma, Swindon-born star actress Billie Piper was pictured picking up a takeaway with her husband, Laurence, just before their marriage collapsed, so let's hope it wasn't an argument about the food that finally tipped them over the edge.
Judging by the smiles on these people's faces it's looks likes a good start all round.
And
Grill Lock
is soon to open in Swindon town centre in the vacated surrounding of Le Rendezvous in Haydon Street.
Not much to report here apart from the sign informing us that it'll be 'Middle Eastern & Indian Cuisine'. But with plenty of work to do inside by the looks of it, we reckon November is more likely before anyone will get a taste of what's on offer.
Plus a change of name in West Swindon for what was the Bombay Lounge -
now Bengal Square.
And just for those who are wondering why Le Rendezvouse closed its doors, may we point you in the direction of Old Town and the all-new Swindon Rendezvous, which opened in August.
Owner of the Rendezvous Group Alan Mok decided to combine the restaurant in to one bigger venue in Hoopers Place. Details via the link below.
Indeed, you could say the that part of Swindon is turning in our foody version of China Town with Swindon Rendezvous joining Kenzo 72 & Jade Garden all at the same location just behind Wood Street.
Building on a successful start
We like this place in Groundwell Road a lot - as do plenty of other customers who have enjoyed their cakes, breads and pastries made everyday on the premises - so we were delighted to see the new café and patisserie Bake 'n Roll is soon opening in the evening for an extended menu & drinks.
Well worth a try, we say, especially if you like a burger. They are all homemade and sensational!
Exciting future for The Bull
Back out of town a little bit, The Bull Hotel in Fairford has brand-new management - the people behind two hugely successful pubs nearby.
Seb & Lana Snow, who with their team run The Five Alls at Filkins & The Plough at Kelmscott, just over the river near Lechlade - and who made their name at the multi-award-winning Swan at Southrop - will re-open The Bull in December and just in time for Christmas after giving the pub a complete transformation.
This once popular hotel and restaurant is buzzing again after new owners took over earlier this year and have invested heavily.
The private dining room just off the main restaurant room looks very inviting with Christmas coming up, with only minors bits and bobs to be completed elsewhere in the bar & conservatory eating area for the place to be finally back to its best.
Congrats at The Pear Tree
Two AA Rosettes Award

Always known for its super-duper cooking, the chefs at The Pear Tree have once again been awarded two AA Rosettes for their culinary excellence.

Here is Head Chef Adam and Sous Chef Chris with their thoroughly deserved accolade.


Always worth a visit, The Pear Tree now serve an individually priced a la carte menu at lunch and dinner with a range of daily lunchtime specials available from just £12.

> Pear Tree at Purton

- more info.



And while we're on the subject of new owners making their mark..... we always have a nosey at TripAdvisor reviews of Swindon restaurants to see who's having nice - or not so nice - things said about them.
We all know the jury is still out on TripAdvisor and whether you should believe what's been written, but sometimes you can just tell it's pretty genuine - not obvious, flattering comments from mates or unfair criticism from rival establishments.
This month, it's The Burj in Wanborough.
The restaurant was taken in June over by brand-new new management - including the head chef from the highly-acclaimed Palm restaurant near Marlborough - with a plan to immediately turn round a restaurant suffering from constant staff changing and very little tlc.
It didn't help when the Adver ran a story giving them zero stars on their health & hygiene for an inspection that took place in April before chef Parimal Sarkar (pictured centre) took over in the kitchen.
He's now whipped the place in to shape and judging by the comments coming through, The Burj has most definitely turned the corner:
"Atmosphere was great, everyone was enjoying a very pleasant Friday night out. Highly recommended! Thanks to Swapen and his team for a very enjoyable experience."
Sept 2016
"Hadn`t visited this Indian restaurant for several years so as it was a convenient meeting place for an old friend and myself we decided to take the plunge. Very pleasantly surprised considering some of the comments on here, and glad we chose it."
"Extensive menu, good choice of well cooked and presented Indian starters and main courses. Pleasant attentive service. A little expensive, but good food in clean well maintained surroundings."
Our advice, as always - judge for yourself!
And finally.... yes, Christmas!
Well, we had to mention it, didn't we? It's the biggest eating-out event of the year and will be on us before we know it!
So if you want the best places for your festive get together with friends, family and work mates it pays to book now!
Here's a few ideas in Swindon.
There's always a few days in the year when a trip out for a meal is almost compulsory. So to avoid disappointment or, worse still, the drafty table next to the back-door and bins, here's the key dates.
They'll be on us before you know it!
Clocks go back
- Sunday 30 October
Festive Season Fridays & Saturdays:
Friday 02, 09, 16, 23 December
Saturday 03, 10, 17, 24 December
Follow SwindonWeb on Facebook & Twitter for the latest eating out news and offers.
Sunday Lunch in Swindon
Traditional roast with all the trimmings? Carvery? Late serving? AA-rated? We know all the places to go in Swindon...

Dog Friendly Food Pubs
Where to enjoy a bite to eat in Swindon and take along your four-legged friend... #dogfriendly

Eating Out Guide
Italian restaurant in Swindon? Chinese, perhaps? A quick bite at lunch-time? Or Sunday lunch? FULL GUIDE