Harry Potter
Swindon's connection to the world of wizardry
Since JK Rowling first put pen to paper thirteen years ago, the adventures of Harry Potter have gripped the imagination of children and adults alike.

Excitement also matched by fans flocking to see HP and his Hogwarts heroes on the big screen as well - the latest blockbuster of which, 'Harry Potter and the Deathly Hallows', being directed by none other than former Swindon film maker David Yates, his third time in charge of calling the shots behind the cameras.
The ex-Gorse Hill resident leading Swindon's five closest connections to a world of magic and Muggles that started in 1997, and which will surely end now the true destiny of Harry and his friends has been revealed.
Or will it?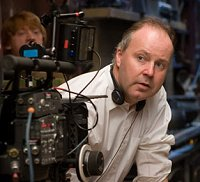 Four-time director:
David Yates, who added a
darker, scarier feel to the
has also now directed the
'Half-Blood Prince' and the
The job of telling Hogwarts regulars, Daniel Ratcliffe, Emma Watson, Alan Rickman et al what to do in Harry P's latest screen adventure - Harry Potter and the Deathly Hallows - is none other than former Swindon resident David Yates.
And if the success of his first two efforts directing the boy wizard in Harry Potter and the Order of the Phoenix and The Half Blood Prince the is anything to go by, it'll be all set to break even more box office records when it's released on this month.
And the place Mr Yates happily admits he learnt the tricks of his trade?
Swindon's Cre8 Studios, in Regents Circus, no less.
The creative environment where he studied and worked as a facilitator for during 1980s and 90s and where he gained much valuable experience, or as he would prefer to describe it:
'the perfect place to experiment and where I really grew to understand how films could be made.'
David also made his first film in Swindon when he lived in Ferndale Road, Gorse Hill. The 1988 film 'When I Was a Girl' was shot in the town with a grant from Thamesdown Media Arts.
In 1998 David directed The Tichborne Claimant, a period romp starring John Gielgud and Stephen Fry.
In the following years he lent his expertise to television, directing hard-hitting dramas including Sex Traffic and the sublime State of Play, which has now being adapted into a major Hollywood movie.
The fact that Mr Yates was signed to direct two HP instalments and is also the main man for the final two-part film, 'Harry Potter and the Deathly Hallows', means global stardom surely beckons - if it hasn't already.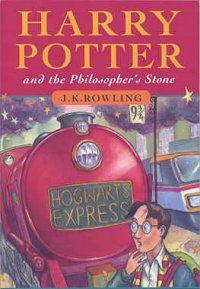 Worth their weight in gold:
early editions of the first Harry
£13,500 pounds is a lot to pay for a paperback.

But that's exactly what one book dealer bid for a first edition of Harry Potter and the Philosopher's Stone in Swindon in 2003 - a world record sum at the time.
One of only 300 originals ever printed by publishers Bloomsbury in 1997, most went for use in public libraries before anyone was aware how big JK Rowling's magical creation would be. Only a few ending up in bookshops.

Swindon resident Monica Timms paying - almost relunctantly - the princely sum of £10.99 for a copy in 1998.

And after discovering its true value through watching a TV programme on rare books, sold it through Dominic Winter Book Auctions in Maxwell Street for a jaw-dropping profit.

"The fact that the book was in A-one condition made it even more desirable amongst collectors," said Philip Best, auction catalogue,

"Mrs Timms looked after it very well."

Real - and not so real?

Christmas Magic
Waving their wands:


Harry Potter stars Chris Rankin
(Percy Weasly) and Jamie Yeates
Swindon went just a little Harry Potter crazy at Christmas in 2005.

Both the shopping chiefs in the town centre and the Designer Outlet deciding that Potter and his Hogwarts friends - and foes - were just the people to get everyone in the festive spirit.

Screen stars Chris Rankin (Percy Weasly) and Jamie Yeates (Marcus Flint) managing to attract a cheering crowd of over 4,000 people to the Parade when they switched on the Christmas Lights on a chilly night in November.

The pair joined by Harry himself and Professor Snape - or two pretty authentic look-a-likes to be precise - to celebrate the occasion.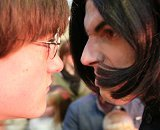 Double-take:
Harry and Prof. Snape
The HP film fakers also doing a turn at the Outlet Village just a couple of days later - again to a frenzy of fans, some of whom actually thought they were in the presence of the real boy wizard.
"I touched him! I touched Harry Potter!" remarking one excited youngster, before having the magic moment cruelly ruined by a sibling.
"He's not the real Harry Potter. He's soooo much better looking than him!"
Wizarding World
Lacock Abbey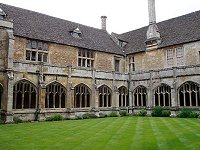 A place for Pottering:
Lacock Abbey
To millions who have seen the films, it's Harry's spiritual home - the Hogwarts School of Wizardry and Witchcraft.
And it's got a Swindon postcode.
Lacock Abbey, Lacock, SN15 2LG - the historic manor house, owned by the National Trust, is where so many famous scenes from some of HP's greatest adventures have been set.

The main hall and medieval cloisters having played the perfect backdrop in nearly every film so far. It was a back corridor in Lacock that Harry's discovered the mystical Mirror of Erised, the final protection given to the Philosopher's Stone.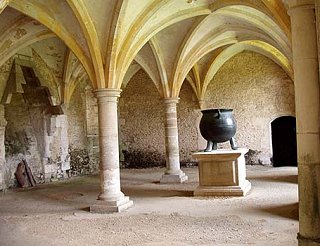 Remember this?:


the Warming Room at Lacock Abbey, one of
the
classrooms in Harry Potter and the

Just down the road from Swindon, the Abbey is now a massive tourist attraction for adults and children alike because of its HP connection.
And best of all for parents looking to keep Potter-mad kids occupied over the holidays, its open to visitors all year round.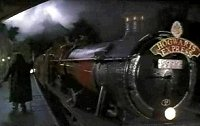 Harry P's most famous form of transport was built in Swindon in 1937.

GWR "Hall" Class 4-6-0 No.5972 was originally christened "Olton Hall" - but is now better known as the Hogwarts Express.

It's life transformed after being saved from the scrapyard in the 1970s and carefully restored.

For the films it's been renamed the 'Hogwarts Castle' and is run in the bright red livery of the ficticious Hogwarts Railways Company.

HP's first trip on the train being hugely significant - he met his two best friends, Ron Weasley and Hermione Granger, on it as they travelled to Hogwarts School in Harry Potter and the Philosopher's Stone.
Harry Potter Night!
An evening of all things Hogwarts incl. fun quiz at Swindon Central Library - 27 FEB

Nineteen Eighty-Four
RICHARD BURTON'S LAST FILM: Swindon's connection to the movie of the George Orwell classic - 30 YEARS AGO THIS MONTH

Black Coffee
We review the new Hercule Poirot play at the Wyvern Theatre, and interview one of its stars - Georgina Leonidas - 1-6 SEPTEMBER

Two Big Fat Mentions!
Primetime Swindon: first the BRITS then My Big Fat Gypsy Wedding...

16 February 2011

The Railway Works
Celebrating Swindon175. A short introduction to the world's finest railway works. Founded this week in 1841....