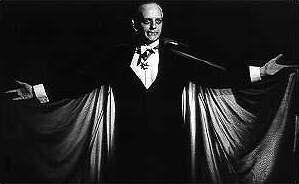 Ashley Heath gets his teeth into the role of Dracula in 1997

The Old Town Theatre Company was set up on 14th December 1992 following the Government's decision to rescind the grants made to the Arts Councils.

This decision meant that Swindon's local community drama companies based at both the Arts Centre in Old Town, and at the Wyvern Theatre, could no longer exist in their previous forms (due to lack of funding) and both companies were therefore disbanded.

Many people previously associated with the Thamesdown Community Arts Theatre (TCAT) decided to form a new company (OTTC) to support the Arts Centre and to preserve the tradition of a community drama group in Old Town.