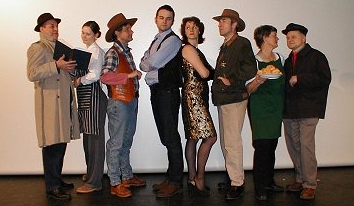 Show poster production shot for Bus Stop, February 2001

Since the Old Town Theatre Company was set up in 1992, we have added another dimension to the drama scene in Swindon. With a particular focus on the works of contemporary playwrights, our aims are to provide a variety of entertainment that will appeal to a more adventurous theatre goer.

We are based at the Arts Centre, Devizes Road, Old Town, Swindon. We welcome anyone interested in any aspect of the theatre, including: acting, directing, lighting, sound, set design and backstage work.

We cover a variety of activities such as: plays, workshops, film and radio productions.

In addition to our annual season, we also regularly enter the Harold Jolliffe One Act Play Festival. This is the Swindon round of the All England Theatre Festival. We've enjoyed great success in this competition, winning it four times in succession from 1999 to 2002!

We also provide actors to cre8 studios in Swindon. This is the borough's community training resource for video, multimedia, sound and photography.

OTTC has established itself as Swindon's most ambitious and innovative theatre company.

To quote the press:

"OTTC has reached an excellence, that would be envied by long standing professionals."