by William Shakespeare
October 1998
New slant on Bard's tragedy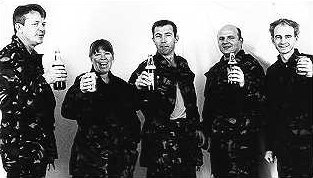 OTTC take on the 'Scottish Play'

Renowned for its unorthodox approach to drama, the Old Town Theatre Company is this season turning traditional with Shakespeare's Macbeth.

But in the true spirit of the company the actors have put their own slant on the famous tragedy and adapted it to suit a younger age group.

"The beauty of Shakespeare is in his words so we are not mucking about with the text but we have given it a modern approach," said Lance Hodges who adapted the play. Macbeth is one of the set books on the curriculum of the examining board for GCSEs and A-levels.

The theatre company has had enthusiastic feedback from Swindon schools.

The company would welcome drama schools who wanted to attend rehearsals and meet the actors.

Lance has swapped his director's hat for the leading role this time and having adapted it says that although there is a lot to learn he already knows most of it by heart.

There is a military theme to the Scottish play which is full of ambition, lust and power.

The Old Town Theatre Company has turned the final fight scene into a martial arts extravaganza. "Leigh Childs is helping us with the choreography," said Lance.

There is an extra performance at the Burmah Castrol House, Pipers Way on October 14 in aid of charity.

The Wiltshire Star
Tragedy to suit the young crowd
A new look to Macbeth, one of William Shakespeare's darker tragedies, is performed this week by a Swindon Theatre Company renowned for its unconventional approach.
The Old Town Theatre Company has a modern style and setting to the play which is not localised or dated but sticks closely to the text.
The aim is to encourage younger people to enjoy Shakespeare without destroying the beauty of his text.
"We have concentrated on the values within the play because they are timeless," said Lance Hodges, who plays the title role.
The Evening Advertiser