Cycling Events 2017
Because it's much more fun with somebody else
Have you noticed that cyclists have a pack instinct?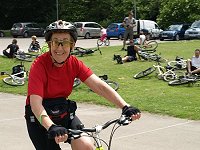 events all year round for all abilities
Some choose bikes to commute from A to B, but otherwise they are nearly always found in groups. From children playing on bikes in the park, to racers and those who think cycling is so made for sharing that they prefer tandems, they've all realised it is one of the most sociable things you can do. So join them!

Whether you leave home on your own, as a couple or a family, there are plenty of events designed to bring you handlebar-to-handlebar with other cyclists and double the pleasure. And there's something for everybody – from would-be Chris Hoys to people who like to take things a lot more leisurely.

Check out British Cycling's excellent official website for a full list of all kinds of cycling events across the country, as well as the links to national events at the bottom of this page.

But the following is comprehensive guide to events closer to home.
LOCAL CYCLING EVENTS IN 2017
The big ride in and around Swindon in aid of Macmillan Cancer Care.
Location: Roves Farm, Swindon.
Routes: 41 miles (longer options available) finishing with a BBQ and camping, £15
Also offering a free easy off-road bike ride for kids.
Location: Wiltshire – near Marlborough, SN9 5LQ
Routes: Choose distances between 32miles all the way up to 110miles. Prices from £14.
| | |
| --- | --- |
| | |
Swindon Bicycle Users Group organises plenty of events across Swindon throughout the year.
| | |
| --- | --- |
| | |
Events for all abilities, mainly held at the Croft Trail Mountain Bike Course in Old Town (opposite the entrance to Nationwide Building Society).
Cycling in Swindon
Bikes at the ready! This guide tells you everything you need to know about cycling around Swindon...