Saddle Bag
A bagful of miscellaneous information and links for cyclists
This section is like the saddle bag on your bike. It's a good place to put useful things, so you know where they are when you need them. And, like things in a saddle bag, they come out in random order…
| | |
| --- | --- |
| | Car v calories |
Cycling is a good form of exercise. Unlike running, it is a low impact activity, so is easier on your joints. A study by the Department of Transport found that you only needed to do a small amount of cycling for it to have significant benefits for your health and fitness.
But how good is it for you, exactly?
British Cycling's calculator not only tells you how many calories you burn up when you cycle – it also calculates how much money you save by taking the bike instead of the car.
> Cycling calculator
| | |
| --- | --- |
| | |
This brand new facility – one of the first of its kind in the country - is already open, but is due for its official launch on June 21, 2010.

It offers secure, covered bike parking in the town centre for up to 100 cycles and has 24-hour, seven-days-a-week access for registered users.

Once you have paid your one-off fee of £10, use of the park is free.
Entry is with a swipe card that is only issued to registered users. CCTV monitoring makes doubly sure that bikes are secure.

Registration forms are available online via the link belowat and in all of Swindon's bike shops.
| | |
| --- | --- |
| | Swindon's cycling guru |

Cycling is taken very seriously in Swindon, so make contact with Cycling Development Officer Anna Cipullo if you have any cycling issues, queries or ideas.

Anna's role is the result of a project called Swindon Cycling Champions, supported by a partnership of the CTC Charitable Trust, the Great Western Community Forest (GWCF) and Active Swindon.

She is based at the Lifestyle Centre at the County Ground.
| | |
| --- | --- |
| | |
If you are thinking of planning a major cycling holiday at home or abroad, check out what Timesonline say first.
Their feature, written in 2008, is such a wide-reaching look at cycling holidays that it's still worth a look.
> Timesonline guide to cycling holidays
| | |
| --- | --- |
| | Cycling, drinking and the law |
The Bike For All website (see below) has a useful section on all legal implications for cyclists – and the main message is don't assume the same laws that apply to drivers also apply to cyclists.
This is especially true when it comes to drinking and riding.
Whether you are within the law if you cycle to and from the pub is something of a grey area – mainly because the section of the Road Traffic Act 1988 that applies (Chapter 52, paragraph 30, part 1), effectively leaves interpretation to the police.
It says: A person who, when riding a cycle on a road or other public place, is unfit through drink or drugs (that is to say, is under the influence of drink or a drug to such an extent as to be incapable of having proper control of the cycle) is guilty of an offence.
Note that while driving a car under the influence is measured by the level of alcohol in the blood, that is not the case with a cycle, and you will not be asked to provide breath or blood samples.
But you may be asked to walk your bike if a policeman deems you unfit to ride it. But you will be liable for arrest if you injure other members of the public, who are most likely to be other cyclists or pedestrians. A policeman will also take action if you are a danger to other road users because of inadequate control of your bike.
Note that the legislation above does not make any distinction between the public highway and any other public place, so you are just as liable to be stopped by the police for riding badly on a track or cycle path as anywhere else.
The final thing to say in this section is your own personal safety should always be a consideration to, even if you are confident you are within the law. It's your choice, but alcohol and drugs do impair judgement, and you may be putting yourself at risk by cycling while under the influence almost as much as riding without a helmet.
> Bike For All FAQs on cycling and the law
> Details of Road Traffic Act 1988 applied to cyclin
g
> Cycling information in the Highway Code
| | |
| --- | --- |
| | Why wear a helmet? |
If you stop to think about it, not wearing a device that has been deesigned lives is, frankly, silly, if the only reason you can think of is how unfashionable it makes you look. Even more silly is parents not wearing helmets while out for a ride with their children, when they've obviously insisted on the children wearing them.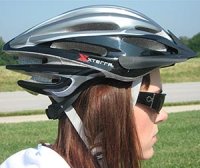 Cycling ability is not a factor when deciding on whether to wear a helmet. Most accidents involving head injuries to cyclists are as a result of events that were beyond the control of the cyclist. In other words, even the best cyclists need helmets.
Some accidents are so bad that even a helmet wouldn't have saved the cyclist's life, but those who choose not to wear one and cite this as their excuse are missing the point. Even seemingly innocuous tumbles and falls can be fatal without a helmet. For example, helmets are excellent at withstanding impacts with something that presents almost no danger to most other roads users but often brings death when it comes into contact with a bare-headed cyclist's skull: namely the kerb.
Some studies have shown that cycle helmets reduce the death rate among cyclists who suffer head injuries by as much as 90 per cent.
However, it has to be said that cycle helmets do have their detractors, and unless or until the law is changed, it's still your choice whether you wear one or not.
But before making your mind up about helmets, the least you should do is to put yourself in full possession of the facts, rather than risk death because your decision was based on hearsay or misinformation. The links below set out the reasons why helmets are a good idea and why some people are opposed to them.
So find out more about the subject – then make up your mind.
Lots of good advice about helmets, including proper fitting, is also available from professionals such as bike shops.
> Info from road safety charity Brake
> Department for Transport Think! cycle safety information
> Bicycle Helmet Initiative Trust website

> Pros and cons of helmets discussed on the Bike For All website
> Bicycle Helmets Research Foundation website
> Mitchell Cycles
| | |
| --- | --- |
| | 10 great cycling websites |

Guardian Bike Blog
The king of cycling blogs. This lively, regularly updated source of information on a huge range of bike topics includes many aspects you've probably never thought of. Essential reading for the modern cyclist.
> Link

Bikes as art and weird machines
A small gallery of bizarre and artistic interpretations of cycling. It has virtually no practical value, but is plenty of fun.
> Link

Bike For All
As well as being packed full of information, Bike For All is also easy to navigate. Check out the menu in the top righthand corner of the homepage, where you can quickly choose between 'Bike for leisure', 'Bike for school' or 'Bike for work'.
> Link

Why Cycle?
Although also featured in our Spokes & Spanners section because of its excellent advice on maintenance and upkeep, Why Cycle? gets an honorary second mention here because it offers much more information than its name suggests. It's more about
how
rather than
why
, and is specifically aimed at potential and new cyclists, thereby assuming no prior knowledge.
> Link

Copenhagenize
If you ever need any inspiration to become (or remain) a cyclist, the city of Copenhagen should be your first port of call. If you don't get to visit the Danish capital itself, where 500,000 people cycle to work every day, then the next best thing is a blog which sees the city's fanatical bike culture as something to celebrate.
> Link

Bike Radar
If you're in it for peak fitness or serious racing, BikeRadar is the blog for you.
> Link

Cycling Info Blog
Cycling Info is a nice blog with lots of happy pictures, which will is liable to inform but is guanranteed to put a smile on the face of cyclists of all levels.
> Link

tom.ride-earth
Cyclists don't come much more extreme than Tom, who has been on a cycle tour of Europe, Asia and Africa since 2007 and is currently off-roading in outer Mongolia. His excellent, professional-looking blog should inspire anybody to think that if he can do that, then getting on your bike around the streets of Swindon shouldn't be any big deal.
> Link

Bike Design Blog
If you've ever wondered what the bikes of the future are going to look like, then the Bike Design blog will fast-forward you better than anything else, with news of hi-tech or just clever designs that are coming soon to a bike lane near you.
> Link

Sustrans
Sustrans is the UK's leading sustainable transport charity – and their success will ultimately be judged by the strength of their membership. So check out what they are trying to achieve, how they are trying to achieve it and what you could do to help.
> Link
Cycling in Swindon
Bikes at the ready! This guide tells you everything you need to know about cycling around Swindon...